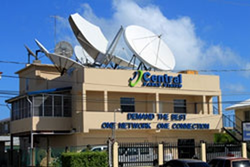 We are delighted to be entering the Central American market with the signing of Central TV and Internet
Alpharetta, GA (PRWEB) June 19, 2015
ZCorum, an industry leader in the deployment of diagnostics tools and software for broadband providers, is moving into the Central American market by inking a multi-year deal with Belizean cable operator Central TV and Internet. Headquartered in the Red Creek, Cayo District of Belize, Central TV and Internet is ZCorum's first Central American customer and adds another market to ZCorum's expanding international presence.
Under the agreement ZCorum will provide data provisioning for all of Central TV and Internet's subscribers. The company will also have access to TruVizion, ZCorum's diagnostics software for DOCSIS, DSL and FTTH platforms. TruVizion enables troubleshooting of individual end-user modem and EMTA issues, as well as tracking down more widespread problems that are affecting plant performance. The tool provides real time and historical modem data, codeword error detection, post install reports and other aids to troubleshooting needed by providers and their technicians.
In addition, Central TV will utilize PreEqualization Analyzer, ZCorum's Proactive Network Maintenance (PNM) tool for DOCSIS networks. The software-based tool makes use of the pre-equalization data coming from cable modems in order to identify the severity and approximate location of upstream impairments like micro-reflections and group delay.
Central TV and Internet provides service to three regions in and around Belize City and was seeking a provisioning solution with better support than from their previous provider. They also were without a diagnostics solution and saw that ZCorum's tools could help them troubleshoot issues more efficiently and improve their overall network performance.
"Central TV will enjoy all the benefits of the best technology available in the market," said Alex Rivera, Sales Director for ZCorum. "This is an important step in strengthening Central TV's operations in the region as they enhance their network. Similarly, we are very excited about bringing them new capabilities in troubleshooting and plant maintenance. We know that these tools will make their operation more efficient so they can focus on the continued growth of their business.
"We are delighted to be entering the Central American market with the signing of Central TV and Internet," said Julie Compann, ZCorum's President and CEO. "We're pleased that they saw us as the number one choice to serve their customers. ZCorum takes great pride in serving our affiliates with world class products and we look forward to a long and mutually satisfying relationship."
About ZCorum
ZCorum provides a suite of broadband diagnostics and managed services to cable companies, telephone companies, utilities, and municipalities. As broadband providers face greater complexity and competition, ZCorum continues to help operators increase operational efficiency and reduce costs, while improving subscriber experience. This is achieved through ZCorum's diagnostics solutions for DOCSIS, DSL and Fiber networks, plus managed services that include data and VoIP provisioning, residential and commercial VoIP service, branded email and Web hosting, along with 24x7 support for end-users. ZCorum is headquartered in Alpharetta, GA. For more information, please visit http://www.ZCorum.com.