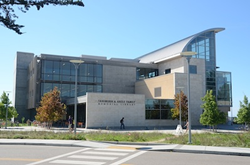 Universities have come to expect an exceptional internet experience and need the very best diagnostics tools and technology to manage their networks.
Alpharetta, GA (PRWEB) April 28, 2015
ZCorum, an industry leader in the deployment of managed diagnostics tools and software for broadband providers today announced they will be providing three additional tools to optimize productivity and improve overall efficiency for the internet operations at the Monterey Bay campus of California State University. The comprehensive toolset will help ensure the quality of internet service for CSU's campus network.
Under the agreement CSU now has access to ZCorum's PreEqualization Analyzer and Upstream Analyzer tools. PreEqualization Analyzer is ZCorum's Proactive Network Maintenance (PNM) tool for DOCSIS networks. The software-based tool makes use of the pre-equalization data coming from cable modems in order to identify the severity and approximate location of upstream impairments like micro-reflections and group delay.
ZCorum's Upstream Analyzer is a fully featured software-based spectrum analyzer that displays the upstream spectrum directly from the CMTS in real time to aid in DOCSIS return-path troubleshooting. The tool displays the noise floor, the signal from specific cable modems and allows you to see ingress under the DOCSIS carrier as it is happening.
CSU will also receive access to ZCorum's bandwidth management tool, Bandwidth Commander, which accurately monitors subscriber bandwidth usage and allows for policies to be enforced on an hour by hour basis to control peak time usage in addition to enforcing monthly quotas.
The university was already using ZCorum's TruVizion diagnostics to get real-time and historical data on the performance of their cable modems and CMTSs, and decided to add the additional tools to help deliver an even better subscriber experience for CSU students and faculty.
Neal Grillot, Vice President of Operations for ZCorum said the new tools will have a powerful impact on CSU's operational efficiency. "PreEqualization Analyzer will allow university staff to correct impairments in their upstream plant as part of regularly scheduled maintenance, rather than reacting after someone is calling about a problem. Upstream Analyzer adds the ability to see noise in the return path, even if it's under the carrier. And Bandwidth Commander will give them the ability to better manage their bandwidth allocation, which can improve service for everyone on the network."
"Universities have come to expect an exceptional internet experience and need the very best diagnostics tools and technology to manage their networks," said Julie Compann, President and CEO of ZCorum. "By adding these additional management tools to its operations, CSU is ensuring a better experience for their campus. We're excited to expand our relationship with them and look forward to helping them realize excellent results for their students and faculty."
About ZCorum
ZCorum provides a suite of broadband diagnostics and managed services to cable companies, telephone companies, utilities, and municipalities. As broadband providers face greater complexity and competition, ZCorum continues to help operators increase operational efficiency and reduce costs, while improving subscriber experience. This is achieved through ZCorum's diagnostics solutions for DOCSIS, DSL and Fiber networks, plus managed services that include data and VoIP provisioning, residential and commercial VoIP service, branded email and Web hosting, along with 24x7 support for end-users. ZCorum is headquartered in Alpharetta, GA. For more information, please visit http://www.ZCorum.com.