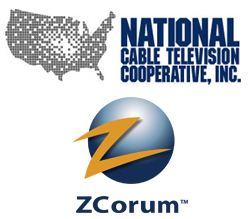 Our goal is to shed some light on the problems that DDoS attacks create and provide information on the prevention measures that can be taken.
Alpharetta, Georgia (PRWEB) May 06, 2014
ZCorum a leading provider of managed broadband services and diagnostics for cable, telco, wireless and fiber providers, will be conducting a technology webinar for members of the National Cable Television Cooperative (NCTC). The webinar, "Strategies for Fighting Distributed Denial of Service (DDoS) Attacks", will focus on how to protect broadband networks from denial of service attacks.
ZCorum officers, Scott Helms, Vice President of Technology, and Rick Yuzzi, Vice President of Marketing, will explain how DDoS attacks are launched, as well as the impact that attacks can have on a network. They will also outline strategies which can be used to protect servers from being targeted, and how BCP-38 source address filtering can be used to stop attackers from using a network.
According to a report by content-delivery provider Akamai, the numbers of DDoS attacks have increased by 47 percent in the last year. "There are ways a service provider can significantly reduce the likelihood that their network will be used to participate in a DDoS attack against another network." said Helms. "Our goal is to shed some light on the problem and provide information on the prevention measures that can be taken."
The webinar will take place Thursday, May 8th at 3 PM Central time, 4 PM Eastern time and will include a question and answer period. NCTC members can contact the NCTC for registration information.
About ZCorum
ZCorum provides managed broadband services and diagnostics solutions to cable companies, telephone companies, utilities, and municipalities, assisting in all aspects of broadband implementation, engineering and consulting, bandwidth management, network monitoring and diagnostics. ZCorum also offers wholesale, private-labeled Internet services, including data and VoIP provisioning, email, Web hosting, and 24x7 support for end-users, enabling service providers to compete more effectively in their local markets. ZCorum is headquartered in Alpharetta, GA. For more information, please visit http://www.ZCorum.com.