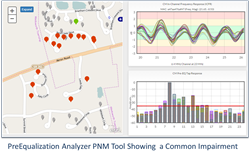 We wanted PreEqualization Analyzer because we were looking into turning on pre-equalization in all the CMTSs but didn't want to mask the problems out there
Alpharetta, GA (PRWEB) February 26, 2015
ZCorum, an industry leader in the deployment of diagnostic software and tools for broadband providers, signed an agreement with Missouri based Fidelity Communications to provide two new diagnostics tools to optimize productivity and improve the customer experience for Fidelity's cable modem subscribers. The cable operator was already using ZCorum's TruVizion diagnostics to get real-time and historical data on the performance of their cable modems and CMTSs, and added the additional tools to help with preventative maintenance and troubleshooting in the upstream cable plant.
Fidelity now has access to ZCorum's PreEqualization Analyzer and Upstream Analyzer tools. PreEqualization Analyzer is ZCorum's Proactive Network Maintenance (PNM) tool for DOCSIS networks. The software-based tool makes use of the pre-equalization data coming from cable modems in order to identify the severity and approximate location of upstream impairments like micro-reflections and group delay.
"We wanted PreEqualization Analyzer because we were looking into turning on pre-equalization in all the CMTSs but didn't want to mask the problems out there," said Jarrod Head, Director of Engineering at Fidelity Communications. "This tool not only allows us to benefit from pre-equalization, but it shows us where the issues are in the upstream plant so we can find the source of the problem before service for our customers is affected."
Also included in the agreement is ZCorum's Upstream Analyzer, a fully featured software-based spectrum analyzer that displays the upstream spectrum from a CMTS in real time to aid in DOCSIS return path troubleshooting. The tool displays the noise floor, the signal from specific cable modems and allows you to see ingress under the DOCSIS carrier as it is happening.
Arthur Skinner, Vice President of Worldwide Sales for ZCorum said the new tools will have a powerful impact on Fidelity's operational efficiency. "PreEqualization Analyzer gives Fidelity a tool that will allow them to correct impairments in their upstream plant as part of regularly scheduled maintenance, rather than reacting after a problem is service-affecting. Upstream Analyzer adds the ability to see to return path spectrum data directly from the CMTS from any location on any device, without any additional hardware or cabling."
"We are working closely with Fidelity to help them meet the challenges of an ever-changing broadband landscape," said Julie Compann, ZCorum's President and CEO. "These solutions will give them the tools they need to more effectively maintain their networks and to continue to provide an exceptional customer experience."
ZCorum will be demonstrating their DOCSIS-based diagnostics tools at the CableLabs Winter Conference next week in Orlando, FL.
About ZCorum
ZCorum provides a suite of broadband diagnostics and managed services to cable companies, telephone companies, utilities, and municipalities. As broadband providers face greater complexity and competition, ZCorum continues to help operators increase operational efficiency and reduce costs, while improving subscriber experience. This is achieved through ZCorum's diagnostics solutions for DOCSIS, DSL and Fiber networks, plus managed services that include data and VoIP provisioning, residential and commercial VoIP service, branded email and Web hosting, along with 24x7 support for end-users. ZCorum is headquartered in Alpharetta, GA. For more information, please visit http://www.ZCorum.com.
About Fidelity Communications
Since 1940, Fidelity has been committed to bringing the latest technology and services to the customers it serves. Fidelity Communications Co. is owned by the Davis family, including brothers Mike Davis, the Chief Operating Officer; and Andy Davis, Executive General Manager of the recently acquired systems; and their sister, Kathy Ruwwe, the company's Director of Human Resources. Fidelity has made five acquisitions over the last two decades, including three in the last seven years that have grown its subscriber base exponentially. Over the past five years, Fidelity has more than doubled in size and now employs over 400 employees. Fidelity now provides about 115,000 Internet, Cable TV and local phone services in Arkansas, Louisiana, Missouri, Oklahoma and Texas. For more information please visit http://www.fidelitycommunications.com.