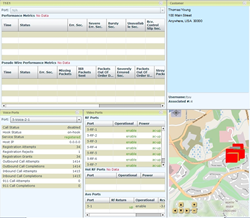 TruVizion is one of the few cross-platform tools in the industry. None of the other diagnostics and monitoring tools provide the coverage or the insight that TruVizion provides.
Ft. Lauderdale, FL (PRWEB) June 23, 2014
ZCorum, a leading provider of managed broadband services and diagnostics, will be exhibiting this week at the FTTH Conference and Expo in Fort Lauderdale, Florida. The two day fiber conference is recognized as an event that delivers cutting edge content in fiber innovation. Attendees experience a full lineup of speakers discussing state of the art technology, educational conferences, and excellent networking opportunities.
While at the show, ZCorum will be showcasing their monitoring and diagnostic tool, TruVizion. Known for its popular diagnostics tools for DOCSIS and DSL networks, ZCorum's TruVizion application is now compatible with fiber network equipment.
ZCorum began offering TruVizion diagnostics for DOCSIS networks in 2009, and the product has since won awards from FierceCable and TMCnet. In 2012, diagnostics for DSL networks was added along with an Auto Configuration Server (ACS) for management of TR-069 devices. The new FTTx features added to TruVizion, currently available for the Calix E7 platform, consolidate key metrics that providers need to keep watch on their fiber network.
"TruVizion is one of the few cross-platform tools in the industry," said Scott Helms, Vice President of Technology at ZCorum. "Some manufacturers for fiber equipment provide diagnostics and monitoring tools for their own platforms, but none provide the coverage or the insight that TruVizion provides."
According to Helms, operators will also find that TruVizion's interface is refreshingly intuitive. "We provide a summary breakdown page of all devices that shows ONT status by OLT, shelf, card and port. Plus, you can drill-in to get a detailed diagnostics page for each subscriber to see the status of the PON connection, gigabit Ethernet ports, T1/E1 ports, as well as voice and video ports."
"We're looking forward to showing fiber providers the wealth of information they can quickly access with TruVizion." said Julie Compann, ZCorum's President and CEO. "We've had great success with TruVizion for DOCSIS and DSL networks, and expect to see a lot of excitement at the show now that we've added fiber compatibility."
About ZCorum
ZCorum provides managed broadband services and diagnostics solutions to cable companies, telephone companies, utilities, and municipalities, assisting in all aspects of broadband implementation, engineering and consulting, bandwidth management, network monitoring and diagnostics. ZCorum also offers wholesale, private-labeled Internet services, including data and VoIP provisioning, email, Web hosting, and 24x7 support for end-users, enabling service providers to compete more effectively in their local markets. ZCorum is headquartered in Alpharetta, GA. For more information, please visit http://www.ZCorum.com.
.