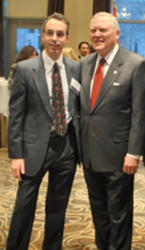 At ZCorum, we've been working hard to further business internationally and we're very appreciative of the resources that GDEcD provides to Georgia companies.
Alpharetta, GA (PRWEB) February 25, 2014
ZCorum, a leading provider of managed broadband services and diagnostics, announced that the International Trade Division of the Georgia Department of Economic Development (GDEcD) has named ZCorum as a recipient of a 2014 GLOBE Award. The GLOBE (Georgia Launching Opportunities By Exporting) Awards are sponsored by the GDEcD and recognizes businesses that have entered into new international markets in 2013. Sponsored and produced by the Georgia Department of Economic Development, this first annual event featured Georgia's Governor Nathan Deal presenting the awards to 53 Georgia businesses.
ZCorum's Vice President of Marketing, Rick Yuzzi, upon receiving the award remarked, "I was honored to accept this award from GDEcD and Governor Deal on behalf of ZCorum. Georgia has now experienced its fourth record year in a row for international trade, and we're proud to be playing a part in that."
In response to the recognition, Julie Compann, President and CEO of ZCorum remarked, "We're thrilled with this recognition from the Georgia Department of Economic Development. At ZCorum, we've been working hard to further business internationally and it's rewarding to be a part of Georgia's expanding technological recognition abroad. This award recognizes something that's already a part of our existing mission, to be a world-class communications company both at home and internationally."
The award was presented at the Go Global Reception at the InterContinental Buckhead Atlanta on February 17, 2014. For more on the awards visit http://www.georgia.org/business-resources/international-trade/globe-award-winners/
About ZCorum
ZCorum provides broadband Internet and communication solutions to telcos, cable companies, utilities, and municipalities, assisting in all facets of broadband implementation, integration, engineering and consulting, network monitoring bandwidth management and diagnostics. ZCorum also offers data and VoIP provisioning, email, Web hosting, and 24×7 support for end-users, enabling service providers to compete effectively in their local rural and suburban markets. ZCorum is headquartered in Alpharetta, GA. For more information, please visit http://www.ZCorum.com.