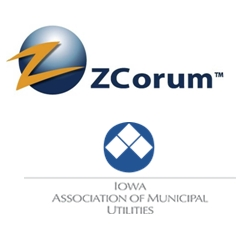 As municipalities continue to work toward building their own broadband operations, our mission at ZCorum is to provide tools and support that enable our customers to offer better broadband service to their local subscribers at a lower cost
Alpharetta, GA (PRWEB) March 18, 2015
ZCorum, an industry leader in the deployment of managed diagnostics tools and software for broadband providers, is exhibiting this week at the 2015 Broadband Conference presented by the Iowa Association of Municipal Utilities in Des Moines. ZCorum President and CEO, Julie Compann and Arthur Skinner, ZCorum's Vice President of World Wide Sales and Business Development, will be on hand to demonstrate their suite of diagnostics tools that includes TruVizion, as well as new proactive network maintenance (PNM) tools, PreEqualization Analyzer and Upstream Analyzer. The company will also be highlighting their fully managed VoIP offering, VoiSelect.
"We are very excited to be a part of the Iowa Municipal Association conference and I'm looking forward to demonstrating our products," said Skinner. "We've added some great new features to TruVizion in the past year, including Wi-Fi diagnostics and the ability to list and map modems by vendor and model."
ZCorum recently unveiled version 2.0 of their DOCSIS proactive network maintenance (PNM) tool, PreEqualization Analyzer. It uses the pre-equalization data from cable modems to identify and locate impairments in the upstream cable plant, which allows operators to fix issues before they impact subscribers. The new release incorporates a dashboard summary of modem status and overall health for all CMTSs, enhanced correlation features, and the addition of historical RF levels.
Skinner said he is also looking forward to talking to attendees about ZCorum's cloud-based, wholesale VoIP solution for providers. "Service providers don't need to invest in all of the complex components needed to offer voice to their subscribers. VoiSelect is a complete solution that gives them the ability to quickly provide a quality digital voice service to their residential and business customers." Skinner said ZCorum can also provide data and VoIP provisioning and diagnostics, as well as 24x7 technical support for the end-user to round out the package.
"We are honored to serve municipalities in many states across the country, including Iowa, so we're looking forward to attending this conference in Des Moines," said Julie Compann, President and CEO at ZCorum. "As municipalities continue to work toward building their own broadband operations, our mission at ZCorum is to provide tools and support that enable our customers to offer better broadband service to their local subscribers at a lower cost."
The Iowa Association of Municipal Utilities conference takes place today and tomorrow, March 18 and 19 at the Ramada Resort and Convention Center in Des Moines, Iowa.
About ZCorum
ZCorum provides a suite of broadband diagnostics and managed services to cable companies, telephone companies, utilities, and municipalities. As broadband providers face greater complexity and competition, ZCorum continues to help operators increase operational efficiency and reduce costs, while improving subscriber experience. This is achieved through ZCorum's diagnostics solutions for DOCSIS, DSL and Fiber networks, plus managed services that include data and VoIP provisioning, residential and commercial VoIP service, branded email and Web hosting, along with 24x7 support for end-users. ZCorum is headquartered in Alpharetta, GA. For more information, please visit http://www.ZCorum.com.