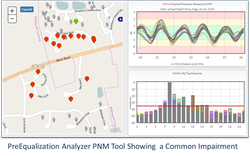 We're always mindful of the responsibility municipalities have to their residents. We're pleased that more and more local governments like Laurens Municipal and Communications entrust us to enhance their broadband services and support.
Alpharetta, GA (PRWEB) August 21, 2015
ZCorum, a leading provider of managed broadband services and diagnostics, announced that the Iowa based municipality has signed an agreement for ZCorum's PNM tool, PreEqualization Analyzer. Laurens Municipal Power & Communications, located in Northwest Iowa, offers electricity, telephone, cable television, and internet services to the town's residents. Laurens joins a growing list of municipalities who are deploying ZCorum's solutions to enable more efficient network operations.
The municipality tried out the new diagnostics tool before purchasing and after a successful trial period confirmed the functionality and benefits for themselves. They now have access to data and information needed to proactively fix upstream impairments and gain insight, control and predictability of their networks' performance and availability.
The software based PNM tool makes use of the pre-equalization data coming from cable modems to identify upstream impairments in the cable plant before subscriber services are impacted. The tool shows the severity and approximate location of the problem, and which devices are being affected by a common impairment.
Laurens already leverages ZCorum's TruVizion diagnostics to get real-time and historical data on the performance of their cable modems and CMTSs, and decided to add the additional tools to help deliver an even better subscriber experience for their subscribers.
"Laurens will significantly reduce the time they spend on plant maintenance, not only freeing up resources and minimizing technicians' time in the field, but also improving the day-to-day operations of its cable operations," said Vice President of Operations, Neal Grillot. "Operators have a pressing need for additional visibility into network operations and this tool will enable them to address unprecedented subscriber demands for quality service."
ZCorum President and CEO Julie Compann said, "At ZCorum we're providing compelling solutions with cost savings and improved operational efficiency for managing broadband networks. We're always mindful of the responsibility municipalities have to their residents and we're pleased that more and more local government entities like Laurens Municipal and Communications have entrusted us to enhance their broadband services and support."
About ZCorum
ZCorum provides a suite of broadband diagnostics and managed services to cable companies, telephone companies, utilities, and municipalities. As broadband providers face greater complexity and competition, ZCorum continues to help operators increase operational efficiency and reduce costs, while improving subscriber experience. This is achieved through ZCorum's diagnostics solutions for DOCSIS, DSL and Fiber networks, plus managed services that include data and VoIP provisioning, residential and commercial VoIP service, branded email and Web hosting, along with 24x7 support for end-users. ZCorum is headquartered in Alpharetta, GA. For more information, please visit ZCorum.com.