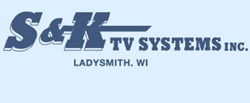 TruVizion has already been a big help, and gives us a powerful tool to quickly identify and resolve cable modem and network issues. 'We particularly like the ability to look back at historical data and see how the equipment has been behaving over time.'
Alpharetta GA (PRWEB) October 17, 2013
ZCorum announced today that they have completed transitioning S&K TV Systems Inc. to their managed broadband service from another provider. The agreement gives S&K a full bundled solution including broadband diagnostics, subscriber services and support.
As part of the move to ZCorum, S&K is receiving around the clock technical support for its broadband subscribers, email service from ZCorum via Google's Gmail, provisioning services for its cable modem devices and engineering assistance from ZCorum staff. In addition, S&K will also receive access to TruVizion, ZCorum's cable modem and CMTS diagnostic application, as well as its companion mobile app for phones and tablets.
According to David Scott, General Manager of S&K TV Systems, he chose ZCorum because he was able to get the services he needed more economically than his previous provider. He also likes many of the advanced features in ZCorum's diagnostics solution. "TruVizion has already been a big help, and gives us a powerful tool to quickly identify and resolve cable modem and network issues," said Scott. "We particularly like the ability to look back at historical data for our modems and ports so we can see how the equipment has been behaving over time."
ZCorum's President and Chief Operating Officer, Julie Compann expressed her gratitude and welcomed S&K into the ZCorum family. "We are delighted to be working with S&K as they continue to build on their long history of providing quality service to the communities in North West Wisconsin. We're looking forward to building our relationship with them and are honored that they've entrusted us to help with their broadband needs and to provide support for their customers."
About ZCorum
ZCorum provides broadband Internet and communication solutions to telcos, cable companies, utilities, and municipalities, assisting in all facets of broadband implementation, integration, engineering and consulting, network monitoring bandwidth management and diagnostics. ZCorum also offers wholesale, private-labeled Internet services, including data and VoIP provisioning, email, Web hosting, and 24x7 support for end-users, enabling service providers to compete effectively in their local rural and suburban markets. ZCorum is headquartered in Alpharetta, GA. For more information, please visit http://www.ZCorum.com.
About S&K TV Systems, Inc.
S&K, a family owned and operated company for over thirty-five years, has been serving their communities for nearly four decades. Based in North West Wisconsin, S&K TV Systems provides cable services to the following communities: Birchwood, Mikana & Edgewater, Exeland, Radisson & Winter, Holcombem Minong & Trego and Gilman. For more information, please visit http://www.skcable.com/cabletv.html.