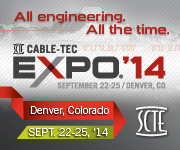 I am very proud of PreEqualization Analyzer and RF Inspector, and I am delighted that we have the opportunity to share them with this year's Cable-Tec attendees.
Denver, Colorado (PRWEB) September 22, 2014
ZCorum, a leading provider of managed broadband services and diagnostics, will be demonstrating the latest in their suite of advanced diagnostic tools this week at the SCTE Show in Denver, Colorado. ZCorum will be showcasing their DOCSIS-based Proactive Network Maintenance (PNM) tool, PreEqualization Analyzer, as well as remote spectrum analysis tools for both the downstream and upstream cable plant. In addition, Scott Helms, Vice President of Technology at ZCorum, will be speaking twice at the conference on advanced diagnostic capabilities, once at the pre-show Wireless Symposium, and again during a workshop on Tuesday entitled "Tools that See Around Corners".
ZCorum will be giving center stage to three tools for troubleshooting issues in the cable plant during the show. PreEqualization Analyzer is a PNM application that identifies the location and severity of upstream impairments by utilizing the pre-equalization data from cable modems on the network. "PreEqualization Analyzer allows operators to be proactive in addressing upstream impairments rather than the usual reactive break-fix scenario," said Scott Helms, Vice President of Technology at ZCorum. "Operators can see impairments before they impact the customers and get them fixed during routine plant maintenance, well before any customer is impacted." ZCorum will also be demonstrating Upstream Analyzer, a software-based spectrum analysis tool that does not require any additional equipment or cabling in the headend.
On the downstream side ZCorum will be highlighting RF Inspector, an inexpensive app that acts like a remote spectrum analyzer by leveraging the DOCSIS-IF3-MIB technology in newer cable modems and set-top boxes. The tool is a mobile application that allows technicians to view downstream spectrum information remotely. With an annual download fee of $9.95, the tool is a cost efficient alternative to traditional meter reading equipment.
"We've developed a suite of diagnostic tools that are truly game changing for the cable industry," said Julie Compann, ZCorum President and CEO. "RF Inspector will drastically reduce the need to purchase traditional field test equipment. PreEqualization Analyzer is already helping our customers find and fix major issues they didn't know were there before they started using the tool. I am very proud of both of these products, and I am delighted that we have the opportunity to share them with this year's Cable-Tec attendees."
About ZCorum
ZCorum provides managed broadband services and diagnostics solutions to cable companies, telephone companies, utilities, and municipalities, assisting in all aspects of broadband implementation, engineering and consulting, bandwidth management, network monitoring and diagnostics. ZCorum also offers wholesale, private-labeled Internet services, including data and VoIP provisioning, email, Web hosting, and 24x7 support for end-users, enabling service providers to compete more effectively in their local markets. ZCorum is headquartered in Alpharetta, GA. For more information, please visit http://www.ZCorum.com.