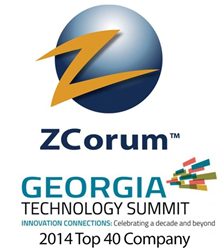 ZCorum has always been focused on advancing internet technologies and opening up opportunities for internet providers to grow and prosper.
Alpharetta, GA (PRWEB) March 17, 2014
The Technology Association of Georgia (TAG), the state's leading association dedicated to the promotion and economic advancement of Georgia's technology industry, today announced ZCorum as one of its Top 40 Innovative Technology Companies in Georgia. TAG will recognize this prestigious group at the 2014 Georgia Technology Summit (GTS) on March 26, 2014, at the Cobb Galleria Centre. TAG'S Top 40 Awards recognize Georgia-based technology companies for their innovation, financial impact, and their efforts at spreading awareness of Georgia's technology initiatives throughout the U.S. and globally.
Julie Compann, President and CEO of ZCorum said, "Being named a TAG Top 40 Innovative Company is a tremendous honor for us and one we have worked hard to achieve. From the beginning, ZCorum has always been focused on advancing internet technologies and opening up opportunities for internet providers to grow and prosper. We're so pleased to have those efforts recognized along with other key players in the technology industry."
When the internet became a reality for the world, ZCorum offered residential and commercial Internet in the Atlanta area, becoming one of the first Internet Service Providers in the country. ZCorum has since developed diagnostics tools for broadband providers and has received numerous accolades and awards from industry leaders, including a Fierce 15 Award and a Product of the Year Award. For nearly two decades, ZCorum has offered Internet services and pioneering products to benefit cable and telco providers and continues to bring to market the latest innovation in broadband management tools and services.
"The 2014 Top 40 finalists are an elite group of innovators who represent the very best of Georgia's Technology community," said Tino Mantella, president & CEO of TAG. "The 2014 Top 40 finalists are shining examples of what makes our State such a hotbed for technology and we applaud them for standing out as leaders in Georgia's technology community."
The 2014 Georgia Technology Summit is expected to draw a crowd of more than 1,300 C-level executives, entrepreneurs, technology professionals and academia to celebrate and recognize Georgia's technology community. In addition to presentations from some of the top technology influencers in the nation, the newest member of the Technology Hall of Fame of Georgia will be inducted.
About ZCorum
ZCorum provides managed broadband services and diagnostics solutions to cable companies, telephone companies, utilities, and municipalities, assisting in all aspects of broadband implementation, engineering and consulting, bandwidth management, network monitoring and diagnostics. ZCorum also offers wholesale, private-labeled Internet services, including data and VoIP provisioning, email, Web hosting, and 24x7 support for end-users, enabling service providers to compete more effectively in their local markets. ZCorum is headquartered in Alpharetta, GA. For more information, please visit http://www.ZCorum.com.
About The Technology Association of Georgia (TAG)
TAG is the leading technology industry association in the state, serving more than 22,000 members through regional chapters in Metro Atlanta, Athens, Augusta, Columbus, Macon/Middle Georgia and Savannah. TAG's mission is to educate, promote, and unite Georgia's technology community to foster an innovative and connected marketplace that stimulates and enhances a tech-based economy.