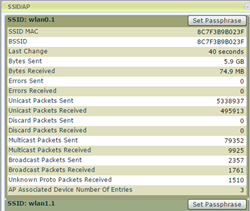 ZCorum is continuously focused on broadband operators and their needs, and the proof of that point is this latest release of features.
Alpharetta, GA (PRWEB) July 10, 2015
ZCorum, an industry leader in the deployment of managed diagnostics tools and software for broadband providers, released today the newest additions to TruVizion, the company's flagship cross-platform diagnostics tool for broadband providers. The latest additions to the software provide several live and historical reports and functionality to further streamline broadband operators' complex network management.
ZCorum continues to advance the industry's broadest diagnostics application for DOCSIS, DSL and FTTH networks with enhanced troubleshooting and reporting features. The new features added this month include:
Historical Usage Charts for MAC Domains show usage over time on MAC domains and all their associated channel groups, from the last 24 hours up to 90 days. This feature will help operators determine whether traffic is properly balanced inside their MAC domains.
WiFi Key Reset Function allows operators to reset the pre-shared key for the WiFi devices on their network that support the latest Arris and CableLabs WiFi MIBs, which will aid in supporting subscribers with embedded WiFi devices.
Full Band Capture Compatible Device Report shows all the network devices that support full band capture on both the hardware and firmware side. Full band capture is a DOCSIS feature that allows a compatible cable modem or set-top box to report the full spectrum passing through the device.
Modem and Node Overview Reports show the operator the worst performing modems and nodes in various categories across all CMTSs, such as codeword errors, bandwidth, times online etc. This will enable operators with multiple CMTS to more easily prioritize troubleshooting of the network.
"TruVizion is a powerful network management tool that is updated with new features on an ongoing basis," says Scott Helms, VP of Technology for ZCorum. "With this latest added performance, operators will more easily uncover the information they need to stay on top of their network management."
"ZCorum is continuously focused on broadband operators and their needs, and the proof of that point is this latest release of features," said Julie Compann, President and CEO of ZCorum. "TruVizion delivers the usability our customers are asking for today with the technology to ensure they are ready for the network management demands of the future."
The latest enhancements are available as a free upgrade for all ZCorum's TruVizion customers. ZCorum provides more details about the updates and a brief overview video here.
About ZCorum
ZCorum provides a suite of broadband diagnostics and managed services to cable companies, telephone companies, utilities, and municipalities. As broadband providers face greater complexity and competition, ZCorum continues to help operators increase operational efficiency and reduce costs, while improving subscriber experience. This is achieved through ZCorum's diagnostics solutions for DOCSIS, DSL and Fiber networks, plus managed services that include data and VoIP provisioning, residential and commercial VoIP service, branded email and Web hosting, along with 24x7 support for end-users. ZCorum is headquartered in Alpharetta, GA. For more information, please visit http://www.ZCorum.com.