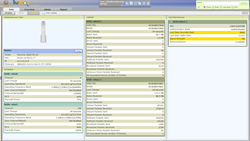 The WiFi diagnostics feature will help operators determine whether an issue is related to a customer's broadband connection or the in-home network
Alpharetta, GA (PRWEB) April 02, 2015
ZCorum, an industry leader in the deployment of broadband diagnostics tools and software for DOCSIS, DSL and Fiber providers, announced that TruVizion now supports a CableLabs standard used to communicate with embedded WiFi devices. The new feature is available exclusively to customers using the diagnostics software.
With this latest release, key statistics are available for additional devices when troubleshooting subscribers who have an embedded Wi-Fi access point in their CPE. A WiFi tab in TruVizion gives service providers access to diagnostics information for the radio and customer connected devices. The tab is now accessible for devices with hardware and firmware supporting the CableLabs WiFi standard, such as models from manufacturers like SMC, Hitron, and Motorola. Late last year ZCorum added WiFi diagnostics support specifically for Arris devices.
According to Scott Helms, VP of Technology for ZCorum, a big challenge for operators today is the lack of visibility into wireless networks in the home. "Most of the time when a customer calls to complain about slow Internet it's related to their WiFi connection. The WiFi diagnostics feature will help operators determine whether an issue is related to a customer's broadband connection or the in-home network."
Another feature in this month's TruVizion release is an Audit Modem Report for providers using Incognito's BCC provisioning system. The report gives operators a list of modems where the provisioned speed doesn't match the modem config, and they can reset those modems from within the report.
Julie Compann, ZCorum's President and CEO, said the new enhancements are a natural extension for TruVizion. "We're always looking for ways to meet the unique challenges faced by our service provider customers. These new features fit squarely within our mission to help operators increase their efficiency and improve the subscriber's experience."
Broadband providers can request a live demo of TruVizion or a sign-up for a free 30-day trial at TruVizion.com.
About ZCorum
ZCorum provides a suite of broadband diagnostics and managed services to cable companies, telephone companies, utilities, and municipalities. As broadband providers face greater complexity and competition, ZCorum continues to help operators increase operational efficiency and reduce costs, while improving subscriber experience. This is achieved through ZCorum's diagnostics solutions for DOCSIS, DSL and Fiber networks, plus managed services that include data and VoIP provisioning, residential and commercial VoIP service, branded email and Web hosting, along with 24x7 support for end-users. ZCorum is headquartered in Alpharetta, GA. For more information, please visit http://www.ZCorum.com.