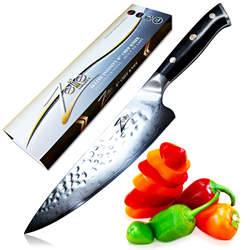 ZELITE INFINITY Executive Chef Knife Special Edition
(PRWEB) December 05, 2016
Ben Clarke, Co-Founder of Zelite Limited, a growth company offering ultra-premium professional kitchen knives across the USA and UK, was exceptionally eager to explain the extraordinary success his business has experienced to date. He remembers well the significant market research project undertaken by him and his team looking into what would make the world's best kitchen knives. One major finding he noted was the trade-off professional chefs had to endure regarding sharpness and edge retention vs. stain and rust resistance. He smiles thinking back to the time when if a chef wanted sharpness and edge retention they would have to choose a high carbon steel, then suffer with high care and maintenance to avoid staining or rust. Or other chefs who preferred lower maintenance and would forgo sharpness and edge retention by choosing a softer stainless steel. His products turned that world on its head when they introduced the Japanese VG10 Super Steel core blade which is protected by 66-layers of high carbon stainless steel. For the first time, Chefs were able to enjoy sharpness, edge retention plus stain and rust resistance. Clarke laughs stating "the kitchen knife landscape has changed so much over the past year since this break-through technology was released, it's almost unrecognizable."
When asked what has made the Zelite Infinity brand such a success, his answer was simple; best product design and world class customer service. He explains that his obsession with customer satisfaction has permeated the entire business, and this is clearly evidenced in the 5-star reception his products receive. That coupled with a 100% satisfaction guarantee and a lifetime warranty pretty much removes any risk from our customers he explained. Regarding product design, Zelite took the market research feedback and built this into their VG10 knife series. Clarke explains, some of the features and benefits are a direct result of superior materials and design, such as razor sharpness with outstanding edge retention and strength and durability due to the full tang and military grade G10 handle. Some are for comfort such as the rounded handle designed for a comfortable experience when using the knife, or the tapered bolster which naturally encourages the chef's preferred pinch grip style of cutting. Others are simply to stand out as a superior high-end knife such as the 3-metal Japanese mosaic rivet and the Tsunami Rose Damascus pattern on the blade surface. Clarke explains that all of the features and benefits work together complimenting each other resulting in a product that simply looks stunning, whilst at the same time offering outstanding value and performance. The market gave direct feedback resulting in the chef knife being recognized as one of the best in the world in 2016.
Building upon the success of the brand, Clarke explains that they wanted to introduce a special edition knife that would capture the benefits of the current design, but add more features making it the alpha knife of this series. The Executive Chef Special Edition includes a 57mm ultra-deep blade for extra knuckle clearance, the aerodynamic finger support on the blade heel offering both style and function and their revolutionary 'Air-Blade' air pocket design specifically designed to reduce drag and stop food from sticking to the blade. The market leading Zelite Infinity 8 Inch VG10 Chef Knife is compared and contrasted against the Executive Chef Special Edition on a Zelite video recently released on YouTube.
The knife is available now exclusively via Amazon USA and UK. Better still, for a limited time only, Zelite are offering their readers a very special 10% introductory discount by applying the code 'DISC10EC' at the Amazon checkout process.