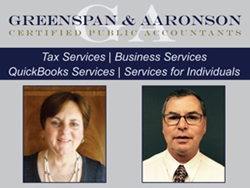 Agencies are sharing information about their examination's findings, which can extend into multiple audits for the taxpayer.
Woodland Hills, CA (PRWEB) May 02, 2015
Due to the IRS cutting back on manpower, there have been reports that the chance of being audited has lessened. In fact, IRS systems have become more automated, tactical and aggressive.
"The IRS is relying more on correspondence audits, which are intimidating to taxpayers because there are fewer people to point the finger at," said Zena Greenspan, CPA. "Audits, by their nature, are invasive. People under examination will often throw money at the problem out of fear and to make it go away, rather than have a CPA who will zealously represent them to reduce their assessment, or even to make the taxes, penalty and interest fines go away altogether."
This is one of Zena's specialties, representing those facing audits, those who have to go before the IRS when they are notified to make appearances, or those who must respond to other controversial tax-related matters. Representation is especially imperative. There is now more of a collaborative effort between the IRS and state and other agencies, "which terrifies taxpayers," said Zena. "Agencies are sharing information about their examination's findings, which can extend into multiple audits for the taxpayer. The process is becoming more and more disingenuous, as well. For example, when people who receive a 'correspondence audit' can call the IRS on the phone, but in this situation the agency's reps don't even identify themselves or identify where the physical office is that generated the audit; this entire process is a radical way for the IRS to expedite and increase collection efforts."
Zena adds that IRS rules, as far as taxpayers' rights, still exist, but they have become more aggressive. "The burden has definitely shifted to our clients, who may be unsophisticated when it comes to fighting an audit. The taxpayer definitely now needs to know how to challenge an audit when warranted, and to be treated fairly during this often overwhelming process," said Zena. "This is where I come in. I know many of the IRS's tactics, which are becoming more clever and well-designed. I fight for my clients and their rights."
Greenspan & Aaronson's offices are located in the West San Fernando Valley, in Woodland Hills, and east of downtown Los Angeles, in Vernon. Please call (818) 342-1987 or (323) 585-8044 for more information or to make an appointment.
About Greenspan & Aaronson, CPAs
Greenspan & Aaronson has been providing professional services to the community for over 35 years, providing business, consulting, accounting, taxation, and financial services to individuals, estates and large and small businesses including corporations, LLCs, partnerships and fiduciary entities.
About NALA™
The NALA offers local business owners new online advertising & small business marketing tools, great business benefits, education and money-saving programs, as well as a charity program.
PR Contact:
news@thenala.com
805.650.6121, ext. 361