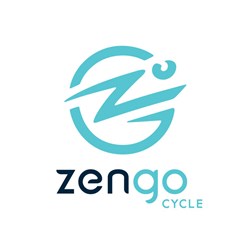 "We look forward to continuing to spread our fitness culture into the Logan Circle community and beyond." - Zengo Owner, Marc Caputo
Washington, D.C. (PRWEB) October 28, 2013
Zengo Cycle, an indoor cycling concept based in Bethesda, Md., is expanding in the D.C. metro area with a new 1,900 square foot studio in the Logan Circle neighborhood. Opening in December, this location marks the beginning of the concept's regional expansion.
Located at 1508 14th Street NW, the new Zengo Cycle will be the neighborhood's first indoor cycling studio. The location will feature a fleet of top-of-the-line Schwinn magnetic resistance bikes, a custom sound system that makes music an integral part of the experience, and a robust retail section offering an array of Zengo Cycle branded gear. The design, done by Bethesda-based Streetsense, features an industrial organic feel that sets the tone for an invigorating and inspiring fitness experience without compare in the D.C. area. "Zengo Cycle was created to provide a universally accessible, high intensity workout for the body, mind, and soul. This vision has proven to be extremely powerful by the success of our Bethesda location, and we look forward to continuing to spread our fitness culture into the Logan Circle community and beyond," said owner, Marc Caputo.
Zengo Cycle's expansion in the D.C. metro area is fueled by the newly formed partnership between founder Marc Caputo, Dennis Ratner of the Ratner Companies, and Streetsense Capital Partners. This powerful alliance has revolutionized the Zengo Cycle concept and has prepared it to scale. "The synergy and excitement of what everyone involved brings to the table is truly unique, and we are focused and passionate on delivering an unparalleled experience to the growing Zengo Cycle community," said owner, Marc Caputo.
About Zengo Cycle:
Zengo Cycle is a full-body, cycle-centric workout for the body, mind, and soul. Classes – run by certified master instructors – are as welcoming to novices as they are challenging to world-class athletes, offering a 50 minute long, full-body escape from a plugged in, stressed out world. With the lights low and music high, the experience offers much needed "me time" that's zen but mostly go. There are no annual or monthly membership fees; clients purchase credits and reserve bikes via a customized online reservation system at zengocycle.com.
About the Partners:
Marc Caputo is the creator and founder of the highly successful Bethesda, Md. based Zengo Cycle. After a career in finance, Marc has found his niche in creating something that is more than just putting bikes in a room. He has created a community based culture and a true experience that he plans on sharing with as many as he can.
Dennis Ratner heads the largest family-owned and operated chain of hair salons in the country, operating nearly 1,000 salons – including Hair Cuttery, BUBBLES, ColorWorks, Salon Plaza, and Salon Cielo and Spa – in 16 states.
Streetsense Capital Partners is the venture division of Streetsense, the innovative design, development, branding, and brokerage company recognized for its work with many of the most high profile retail, dining, and hospitality concepts in the U.S. and abroad.