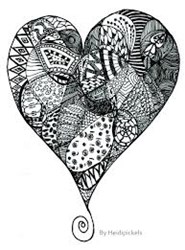 The Zentangle art experience is relaxing and makes for a great date night!
Ferndale, MI (PRWEB) January 21, 2014
Downtown Ferndale's popular DIY art studio, Inspiration Uncorked, is featuring a new artist and a new class starting in February. Owner Mary Higgins is showcasing Zentangle, making Inspiration Uncorked the only art studio in the metro Detroit area to offer the popular class.
With 4 classes held throughout February and March, Inspiration Uncorked is offering students an exclusive opportunity to learn the Zentangle method. During the two-hour classes, students will create complex, visually stunning designs using simple, structured patterns. The BYOB classes are being offered February 12th and March 5th from 5-7pm, as well as on February 15th and March 9th from 3-5pm.
The easy-to-learn and relaxing ritual of creating Zentangle drawings has made it increasingly popular with artists of all skill levels and age. No drawing experience is needed to create elaborate designs that range from abstract patterns to beautiful portraits. Certified Zentangle instructor Samantha Wunderlich will teach students several patterns (tangles) that can be combined to make a unique piece of art.
Zentangle students will have the opportunity to explore their inner artist in a relaxing, creative and collaborative setting. Inspiration Uncorked's interactive classes are popular as date nights, girls' nights out, or even staff and team-building retreats. During Zentangle classes, coffee, cold beverages, and snacks are available for purchase. Guests are encouraged to bring their favorite wine, beer or cocktails and appetizers.
Throughout Zentangle classes, students have the opportunity to purchase Inspiration Uncorked wine accessories. Instructor-made wine glasses, blown glass stoppers, and other one-of-a-kind accessories can be bought and enjoyed during class. "I am so excited to be able to share the artwork of our instructors with our students," says Mary Higgins. "Bring a bottle of wine, and enjoy it out of some beautiful hand-painted wine glasses!"
Inspiration Uncorked is an art party studio located in downtown Ferndale, Michigan. With a large selection of public and private classes, Inspiration Uncorked provides everything necessary for a unique and creative night with friends. Learn more at http://www.inspirationuncorked.com, http://www.facebook.com/inspirationuncorked, or on Twitter at @ferndaleDIYart.