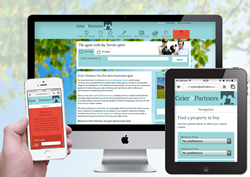 We are using new technology to help estate agents improve both the channels of communication, the user experience and the levels of personal service.
Colchester, Essex (PRWEB UK) 24 June 2014
According to property portal home.co.uk, 80% of people will start their property search online, with web traffic statistics expert Hitwise reporting that 1% of all UK internet traffic is property related.
While instant access to property information is great for prospective buyers and sellers, the statistic is more worrying for estate agents, especially those who have spent years building a reputation for providing traditional, personal service. If we become a nation of online property consumers, the local knowledge and expertise of our estate agencies may well become lost in cyberspace and vendors may turn away from local agents in favour of cheaper online marketing options.
Following in-depth industry research, Zero Above has created a range of innovative options to help estate agents raise their game by combining cutting-edge technology and bespoke website design to deliver personalised and traditional estate agency services via user-friendly website tools.
This new technology developed by Zero Above for estate agents includes 'myHousebook' – a unique interactive tool that allows vendors to securely log in to their agent's website and view real-time information on sales performance, including website views, enquiries and feedback from viewings. The bespoke elements can include links to local living statistics, the agency's individual branch performance and automatic linking to search portals.
Simon Isaac, Strategy Partner at Zero Above, describes how the service will benefit estate agents, "We are using new technology to help estate agents improve both the channels of communication, the user experience and the levels of personal service offered by estate agents' online presence by creating interactive tools for the industry that could be shaped to suit individual agencies, without the shackles of monthly payments."
David Grier, owner of Suffolk-based Grier & Partners, one of the first agencies to use myHousebook in its new website commented: "We have recently celebrated 20 years in the local area and the experience and insight we have is invaluable to our clients. We wanted our website to reflect our expertise and the personal way we work. Our clients are reassured that even when the office is closed they can log in for up-to-date information on the progress of their sale. The personal touch is still so important, and we feel our new website reflects that perfectly."
EDITOR'S NOTES:
About Zero Above:
Zero Above is a multi-award-winning, Essex-based sustainable design agency which has been carbon-balanced from its creation two and a half years ago. Set up by its working partners, each sharing a vision for sustainable business, the agency offers comprehensive services for brand and marketing strategy, digital marketing, design and print, web design and development, exhibition and signage, and of course mobile App development.
Zero Above approaches every project as a unique piece of work for its clients, and with the skills, commitment and experience in the team, they are able to offer a multi-disciplinary service designed to deliver great results every time.
"We call it Develop-Design-Deliver - and we can deliver the whole process from start to finish, or any stage in isolation depending on your needs."
Visit http://www.zeroabove.co.uk or tweet @zeroabove for further information.
Carbon Monitoring App (CMA):
This innovative business tool was developed by Zero Above in order to create something completely unique that no other agency had done before, while at the same time spreading their sustainable business philosophy across the UK.
Under the ethos of "so simple an adult could use it, so engaging a child would want to", the App allows businesses of all shapes and sizes to monitor and improve their carbon footprint. This in turn will assist in:

Improving efficiency and streamlining processes
Achieving competitive advantage
Managing risks and liabilities and complying with environmental legislation
Attracting socially responsible investment
Improving communication with employees, customers, investors, regulators and others
Reducing emissions and cutting costs
Quick and easy to use, the Carbon Monitoring App focuses on the three key areas of home, work, and travel, while also providing useful tips on improving your carbon footprint. After checking your energy usage, you can track how you're doing and even share it via Facebook, Twitter and LinkedIn.
Download the Carbon Monitoring App now from the Apple App Store or Android Marketplace, or visit http://www.zeroabove.co.uk for more information.