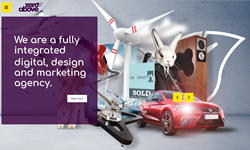 Changes in technology and user demand create opportunities to update websites with the latest trends, engage with the end user and show your service offering from a new perspective
(PRWEB UK) 26 April 2017
The continual and fast-paced evolution of web development is challenging for the digital marketing industry, who need to read consumer trends, meet Google's algorithmic demands and future-proof websites. According to Zero Above's Managing Director, Simon Isaac, this challenge creates an opportunity for the company's web development team.
"Changes in technology and user demand create opportunities to update websites with the latest trends, engage with the end user and show your service offering from a new perspective," explains Simon. "In an increasingly demanding market, it's an opportunity for businesses to gain tangible competitive advantage."
"We aim to innovate, read market trends and showcase new possibilities in web design, and with this in mind we have developed a brand-new website for Zero Above, combining simple user-experience (UX) with cutting-edge web design and exciting micro interaction."
The company is also trialing a new colour palette, introducing vibrant pantones in bright pink, purple and yellow alongside strong graphics, intuitive navigation and videography. With mobile access overtaking desktops for the first time in 2016, a key development component has been in mobile first design, reveals Simon.
"From the initial website scope, we wanted to take the mobile first approach, designing the site for the smartphone first and then working our way to desktop. Navigation and ease of browsing had to be strong throughout, with quick, easy clicks to relevant pages using our full screen menu and interactive buttons such as those found on the services pages. Throughout the site, there are numerous micro-interactions designed to enhance engagement and UX."
The bespoke website design enables Zero Above to demonstrate its extensive in-house web design talent and innovation, and to highlight the work the agency has carried out for its clients. The new portfolio pages feature an exciting tile design with interactive features leading to case studies on clients including Rega, Gilbarco Veeder-Root, Lee Stafford Education and Blind Veterans UK.
"We want to showcase possibilities in web design," concludes Simon. "Excite and engage your customer and you'll stand out from the crowd."
To find out more, visit http://www.zeroabove.co.uk
About Zero Above:
Zero Above is a multi-award-winning, Essex-based sustainable design agency, which has been carbon-balanced from its creation two and a half years ago. Set up by its working partners, each sharing a vision for sustainable business, the agency offers comprehensive services for brand and marketing strategy, digital marketing, design and print, web design and development, exhibition and signage, and mobile App development.
Zero Above approaches every project as a unique piece of work for its clients, and with the skills, commitment and experience in the team, they are able to offer a multi-disciplinary service designed to deliver great results every time.
"We call it Develop-Design-Deliver - and we can deliver the whole process from start to finish, or any stage in isolation depending on your needs."
Visit http://www.zeroabove.co.uk or tweet @zeroabove for further information.