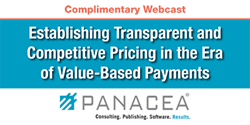 St. Paul, MN (PRWEB) September 29, 2015
Panacea Healthcare Solutions, Inc., is pleased to announce a free webcast that will feature an in-depth case study from INTEGRIS Health on how they established competitive pricing while maintaining their net revenue objectives.
The Affordable Care Act requires hospitals to make available to consumers their standard prices for services in order to provide them the ability to compare such prices to other area providers. As a result, hospitals will have to be prepared to explain or defend how their prices are derived.
In this live webcast, Greg Meyers, System Vice President, Revenue Integrity, INTEGRIS Health and Greg Adams, Chief Strategy Officer, Panacea Healthcare Solutions, will walk you through how to establish defensible competitive pricing in the era of value-based purchasing.
Join Panacea Healthcare Solutions on September 30 at 1:30 ET and learn how INTEGRIS Health:
•Synchronized their chargemasters in preparation for their conversion from Cerner to Epic
•Developed new rational system-wide prices to be market competitive with both hospitals and free standing provider
•Priced their OP Lab and Radiology services to be competitive in the market
•Developed consistent pricing for supplies based on actual unit cost and a new pricing algorithm for pharmacy prices
•Incorporated cash discount reports, stop-loss impact and more into their pricing
•Reduced patient complaints related to common understandable services, CBC, chest x-rays, drugs, etc.
You can register for this complimentary webcast by clicking on this link: https://attendee.gotowebinar.com/rt/4306200276225813506
###
About Panacea Healthcare Solutions, Inc.
Panacea Healthcare Solutions, Inc. provides coding, compliance, reimbursement and revenue solutions through consulting, software, publications and webcasts. Panacea provides the most comprehensive coding, compliance, and reimbursement resources, tools and services for hospitals and health systems. All of Panacea's products and services are driven by specialized in-house consulting teams with unparalleled experience and credentials. For more information on Panacea, please visit: http://www.panaceainc.com.