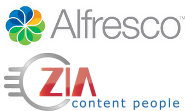 "Across both the public and private sector, we hear the same messages from CIOs around needing to control the 'content chaos' that exists in their organizations... with our solutions to address these issues, we're excited that we can help 'save the CIO'."
Boulder, CO (PRWEB) January 26, 2015
Zia Consulting, Inc., the leading provider of Enterprise Content Management (ECM) and Document Capture solutions, announced today their plans to set out on a new lunch and learn tour in partnership with Alfresco Software. These midday events taking place in major cities across the country will highlight how Zia is turning around the expression that CIO means "Career is Over," and that starting in 2015 it can mean "Career Isn't Over".
It's been nearly 10 years since the first reference that CIO meant "Career is Over" and over that time many of the challenges have only gotten worse. In the content management world for CIOs, the challenges have also gotten more public—with the Sony hacking as only the most recent example. The challenges have also gotten more broad in scope. While the traditional CIO has focused on Information Governance and Information Security, the modern CIO is just as importantly focused on deploying technology as a competitive advantage for the business.
Zia and Alfresco are teaming up to present the "Career Isn't Over" lunch and learn series where they will travel to numerous cities to introduce their ECM solutions and present case studies about existing customers who are taking advantage of these solutions. During these lunchtime presentations, Zia will expand on the top signs that a CIO will still be at their company in 2016, including: 1.) Solving SharePoint, 2.) Solving Governance, and 3.) Solving Security.
"Across both the public and private sector, we hear the same messages from CIOs around needing to control the 'content chaos' that exists in their organizations," said Mike Mahon, CEO at Zia. "They need to manage SharePoint sprawl, solve 'the Dropbox problem' with unsecured collaboration, and figure out how to solve Records Management in their organization. With our solutions to address these issues, we're excited that we can help 'save the CIO'." Mike Mahon recently authored an article entitled "It's 2015. Now CIO means 'Career Isn't Over'" which can be found on the Zia Consulting blog.
Events are currently scheduled in Atlanta on February 4, Nashville on February 5, and Washington, DC on February 10—with more cities to follow. They are free to attend and anyone with an interest in enterprise content management is welcome. For more information and to reserve your spot visit http://alfresco-zia.eventbrite.com.
###
About Zia Consulting, Inc.
Zia understands the importance of content to your success—with a focus on where your content comes from and, more importantly, where you need it to be. We recognize that these requirements may be unique to your industry, which is why we have established Zia Public Sector Solutions, Zia Solutions for Financial Services, and other vertical-focused practice groups. Additionally, we appreciate that content workflows differ by division or department, which is why we've developed solutions for Corporate Finance, Corporate Legal, Human Resources, and other branches of your organization. To address the critical role that content plays in the strategic direction of your organization, the Zia "Content Consultancy" Services deliver an end-to-end assessment of your existing content processes and a roadmap for how document automation and other enhancements can provide a measurable impact on your organization's success. To deliver ECM Consolidation to your enterprise, Zia brings the most proven migration methodology in the ecosystem with our ActiveMigrate™ offering. Zia is a leading partner of Alfresco, Ephesoft, IGC Brava, Crafter, Simflofy, and more. Visit http://www.ziaconsulting.com for more information.