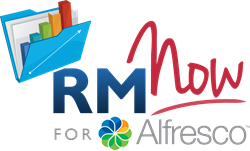 "We find that customers are looking to 'jump start' both their RM learning and their RM projects at the same time, so this combined training and assessment package makes sense."
Boulder, Colorado (PRWEB) September 08, 2014
Zia Consulting, Inc., the leading provider of Enterprise Content Management (ECM) and Document Capture solutions, announced today the launch of RMNow, a customized training and assessment package for Alfresco Records Management (RM) customers. This offering was driven by Zia's extensive experience providing implementation and education solutions to Alfresco RM users.
Built into Alfresco, the Records Management module is an information governance solution that makes it easy for end users to work with files and have them declared as records at the right time–without changing the way the users work. As one of the only Alfresco partners with substantial experience implementing this module, Zia Consulting now provides education and delivery options for Alfresco RM-related projects.
RMNow is a custom three-day program that includes two days of RM training with a company's own records, followed by a one-day assessment of a company's unique RM needs. During the training portion, an expert instructor works with up to 10 people from an organization (either onsite or at Zia headquarters) to suitably prepare them for administrative use of the RM module.
During the assessment day, an experienced project manager discovers and evaluates a company's specific RM needs. They understand goals, determine business requirements, and review application and IT architecture. Upon finalizing the business and technical assessment, they build a project roadmap. This includes a project management and implementation plan, success criteria, and adoption matrix.
"Zia provides companies with all of the tools and training necessary to successfully implement and sustain the Alfresco Records Management module," said Phil Robinson, SVP at Zia Consulting. "We find that customers are looking to 'jump start' both their RM learning and their RM projects at the same time, so this combined training and assessment package makes sense."
More information about RMNow can be found at http://www.ziaconsulting.com/rmnow. Zia is currently scheduling this training and assessment delivery through the end of the year.
###
About Zia Consulting, Inc.
Zia Consulting delivers Enterprise Content Management (ECM) systems that work by addressing the most document-driven business processes in organizations today. Our Secure Back Office Solutions for Human Resources, Corporate Legal, and Corporate Finance replace email and shared drives—and unused legacy ECM systems or cloud sharing sites—with tools that work the way they do. Our Document Processing solutions leverage technologies like advanced OCR capture and enterprise integration to address the cost and complexity involved in financial services, from loan processing to claims processing to application processing. To deliver Simple + Secure Solutions, Zia brings the most proven migration methodology in the ecosystem with our ActiveMigrate™ offering. Zia is a leading partner of Alfresco, Ephesoft, IGC Brava, Crafter, Simflofy, and more. Visit http://www.ziaconsulting.com for more information.