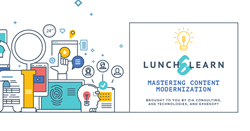 Content experts will discuss how increased competition, shrinking IT budgets, and heightened compliance regulations are disrupting 'business as usual'
BOULDER, Colo. (PRWEB) February 27, 2019
Zia Consulting, Inc., the leading provider of enterprise content management (ECM) and intelligent document capture business solutions, will host an event in Washington D.C. on March 7, 2019. This event will be co-hosted with ASG Technologies and Ephesoft. During the complimentary lunch and learn, attendees will have the opportunity to discuss their current content management challenges and learn how the most successful organizations are moving forward with content modernization strategy.
Content experts will discuss how increased competition, shrinking IT budgets, and heightened compliance regulations are disrupting 'business as usual' for enterprise content management (ECM) customers and forcing the move towards more agile content services.
Presenters will include leaders in the content management industry and discussions will center around mastering content modernization:

Understanding the real benefits and challenges of deleting, consolidating, migrating and streamlining content
Identifying wins for the business that align with your cloud/hybrid direction
Implementing and enforcing governance and compliance with lessons learned and a best practice approach
Discovering small steps that will lead to dramatic change: digital transformation for digitization, federation and process automation
This event is designed for attendees to learn more about modern content services and to network with peers.
Washington D.C.
Thursday, March 7, 2019
11:30 AM–1:30 PM EST
DBGB Kitchen & Bar
931 H Street Northwest
Washington, DC 20001
Register Now: https://content-modernization-dc.eventbrite.com/?aff=media
Zia Consulting is an award-winning system integrator of content management, process management, document capture, and cloud sharing technologies. We address the needs of enterprises to better manage, process, and secure documents by automating business processes and enhancing information governance. Our vertical accelerators for insurance, mortgage, accounting, manufacturing, and more are utilized by some of the world's largest enterprises to reduce costs, increase efficiency, and mitigate risk. Visit http://www.ziaconsulting.com for more information.
About ASG Technologies
ASG Technologies is an award-winning, industry-recognized and analyst-verified global software company providing the only integrated platform and flexible end-to-end solution for the information-powered enterprise. ASG's Information Management solutions capture, manage, govern and enable companies to understand and support all types of information assets (structured and unstructured) and stay compliant. ASG's IT Systems Management solutions ensure that the systems and infrastructure supporting that information lifecycle are always available and performing as expected. ASG has over 3,500 customers worldwide in top vertical markets including Financial Services, Healthcare, Insurance and Government. Visit us at ASG.com, LinkedIn, Twitter and Facebook.