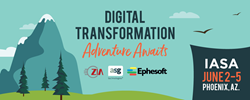 As a leading partner for ASG Technologies and Ephesoft Smart Capture®, we are able to provide guidance and industry-leading solutions to meet the specific needs of the insurance industry.
BOULDER, Colo. (PRWEB) May 15, 2019
Zia Consulting, Inc., the leading provider of enterprise content management (ECM) and intelligent document capture (IDC) business solutions, will exhibit at the 2019 IASA Annual Educational Conference and Business Show. Zia will co-exhibit in the booth with partners ASG Technologies and Ephesoft. The event will take place in Phoenix, June 2–5.
The IASA conference is the premier event for insurance industry professionals, with a practical focus on technology, insurtech, finance, professional development, operations, and much more. Attendees can network with peers, hear from industry thought leaders, and have fun in a one-of-a-kind, industry-focused experience.
Many insurance organizations are placing a high priority on improving process efficiency to deliver measurable business results. From applications to claims, these companies are looking to modernize the way they interact with core systems, reduce costs, increase customer satisfaction and retention, and address cyber security and compliance. According to a recent case study, a leading insurance provider was able to migrate 10 million documents in just seven days and decreased processing time from 16 hours to 15 minutes by utilizing their solutions.
"As a leading partner for ASG Technologies and Ephesoft Smart Capture®, we are able to provide guidance and industry-leading solutions to meet the specific needs of the insurance industry," said Ryan McVeigh, managing partner at Zia Consulting. "Our solutions integrate with the tools our clients already use, including core insurance management systems. We also automate the security and content management processes to deliver enterprise governance and compliance."
Zia places an emphasis on providing insurance automation solutions targeting the costly and complex document processing tasks that exist across the industry. These solutions are designed to deliver a rapid return on technology investment. Zia services are tailored to create insurance document automation solutions for organizations worldwide—including life insurance, property and casualty, and reinsurance.
At the IASA show, Zia will be demonstrating their claims automation solution accelerator which includes intelligent classification and extraction from Ephesoft, smart routing, a centralized Mobius content hub, and more. In addition to their booth, #427 on the tradeshow floor, Zia will be participating in the vendor connect tours. They will take part in the following sessions on Monday, June 3:
Digital Transformation & Emerging Technologies, 9:50–11:00am
Content Management, 11:10am–12:10pm
For more information on the conference, or to register, visit https://www.iasa.org/conference.
Zia Consulting is an award-winning system integrator of content management, process management, document capture, and cloud sharing technologies. We address the needs of enterprises to better manage, process, and secure documents by automating business processes and enhancing information governance. Our vertical accelerators for insurance, mortgage, accounting, manufacturing, and more are utilized by some of the world's largest enterprises to reduce costs, increase efficiency, and mitigate risk. Visit https://www.ziaconsulting.com for more information.
About ASG Technologies
ASG Technologies is an award-winning, industry-recognized and analyst-verified global software company providing the only integrated platform and flexible end-to-end solution for the information-powered enterprise. ASG's Information Management solutions capture, manage, govern and enable companies to understand and support all types of information assets (structured and unstructured) and stay compliant. ASG's IT Systems Management solutions ensure that the systems and infrastructure supporting that information lifecycle are always available and performing as expected. ASG has over 3,500 customers worldwide in top vertical markets including Financial Services, Healthcare, Insurance and Government. Visit us at ASG.com, LinkedIn, Twitter and Facebook.