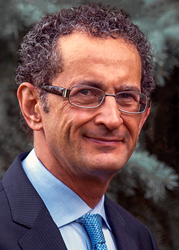 Calgary, Alberta (PRWEB) November 24, 2014
Ziff Energy, a division of HSB Solomon Associates LLC (Solomon), announced today that Executive Vice President Paul Ziff will give the keynote speech at the 2014 Continuous Improvement Professionals Energy Consortium Canada (CIPECC) "Going Beyond Lean" Conference on November 28, 2014 in MacDonald Hall at The Southern Alberta Institute of Technology in Calgary, Alberta.
In his "Benchmarking in the Canadian Energy Industry" presentation, Paul will speak on the role of benchmarking as an important tool in the energy sector's drive for continuous improvement. This information is vital for the conventional oil and gas sector, whose returns will be depressed given the trend in lower oil prices, as well as the thermal sector, which has experienced strong escalation in capital costs.
Ziff Energy has been a global leader in the benchmarking industry for more than 30 years. A specialist on natural gas industry strategies and upstream corporate performance, Paul has conceived and directed a wide range of benchmarking studies and consulting projects in upstream corporate performance.
This event is one of many at which Paul has been invited to speak at this year. Earlier in 2014, he gave presentations at The Petroleum Acquisition & Divestment Association Breakfast, The Society of Petroleum Engineers (SPE) Luncheon for the International Business Development Special Interest Group, and The Canadian Energy Law Foundation's 6th Seminar in Energy Law Fundamentals.
CIPECC is an innovative professional group made up of operational excellence and continuous improvement professionals from many mid- to large-size oil and gas companies in Alberta, with a strong participation from the SAGD sector.
About Solomon Associates
HSB Solomon Associates LLC is the leading performance improvement company for the global energy industry. Solomon's benchmarking and consulting solutions help customers across the energy value chain to achieve operational excellence by increasing efficiency, reliability and profitability. Solomon also provides forecasting and advice on the North American gas market. Solomon's proprietary analytics uniquely transform data into insight for making better business decisions. Based in Dallas, TX USA, Solomon is part of HSB Group, Inc. Learn more at SolomonOnline.com.