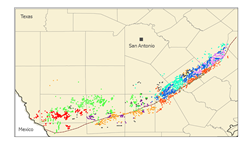 A majority of the top basin operators participated in this study and gained insight on how to best deploy limited resources to improve their production operations.
HOUSTON, TX (PRWEB) December 10, 2014
Ziff Energy, a division of HSB Solomon Associates LLC, today has delivered the final results of its Eagle Ford Shale Production Operations Benchmarking Study (Eagle Ford Study) to participating operators. Each study participant received a customized report with the specific results for their Eagle Ford production operations.
"This study is a critical tool for Eagle Ford operators to manage continuous improvement initiatives by identifying cost performance gaps and opportunities to improve production efficiency," said Sergey Turchin, Director of Operations Consulting and Project Manager for the study. "Given the recent drop in oil prices, the results are timely and will benefit operators as they work toward maintaining their operating margins in the basin."
Figure 1 illustrates the location of wells operated by the study participants.
Along with the Bakken and Permian basins, Eagle Ford is one of the most dynamic shale oil basins in the US. Study participants range from major producers to leading independents. Considering the variety of market delivery options available to producers in Eagle Ford, Ziff Energy consultants have analyzed two separate operating costs—those related to the well site and costs of gathering, treatment, and stabilization. The study also benchmarked a group of uptime reliability metrics.
According to the Railroad Commission of Texas Production Data Query System, during the first half of 2014, oil production in the basin increased by 25.9 percent. For the same time period, production of condensate and gas increased by 8.85 and 9.96 percent, respectively.
Future growth will not only depend on the impact lower oil prices have on drilling activity in the basin, but also on efforts to improve the production efficiency of existing wells. If operators reduce their drilling as a result of lower oil prices, focus will shift in the basin to improving the economics of current production. Improving existing production is where benchmarking results like these are most helpful.
"While we have been benchmarking US production operations since 1996, this year, the company has begun a series of these studies specifically for shale basins," said Richard M. Tucker, Vice President of Marketing and Client Relations. "The level of interest to assess performance in the Eagle Ford basin was very high. A majority of the top basin operators participated in this study and gained insight on how to best deploy limited resources to improve their production operations."
In the first quarter of 2015, Ziff Energy will conduct a workshop on best operating practices exclusively for Eagle Ford study participants. The workshop will be a forum for operators to learn from each other and share common challenges in the basin.
Other Eagle Ford operators can still join as late participants in the benchmarking study and participate in the workshop. Interested companies can learn more by contacting Richard Tucker at +1.713.985.5183 or Richard(dot)Tucker(at)ZiffEnergy(dot)com.
About Solomon Associates
HSB Solomon Associates LLC is the leading performance improvement company for the global energy industry. Solomon's benchmarking and consulting solutions help customers across the energy value chain to achieve operational excellence by increasing efficiency, reliability and profitability. Solomon also provides forecasting and advice on the North American gas market. Solomon's proprietary analytics uniquely transform data into insight for making better business decisions. Based in Dallas, TX USA, Solomon is part of HSB Group, Inc. Learn more at SolomonOnline.com.