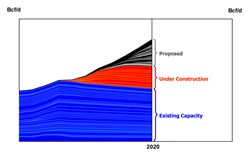 Calgary, Alberta (PRWEB) December 12, 2013
Ziff Energy, a division of Solomon Associates, today announced the release of its North American LNG Exports to 2020 report. The report reviews the world liquefied natural gas (LNG) supply, Asian demand, and LNG exports from North America. It also details how countries including Australia and Russia, as well as some in East Africa and the Middle East, are actively developing LNG supply.
Figure 1 shows global LNG supply by project development phase, which includes existing LNG, under construction LNG, and proposed LNG. The report indicates Australia, Canada, and the United States will lead the world in LNG liquefaction additions.
Additional Ziff Energy reports recently released and available for purchase include:

Growth of North American Natural Gas Demand to 2020
Western Canada Oil Production to 2020
Gas for Power Generation to 2020
2012 U.S. and Canadian Gas Reserve Replacement
Western Canada Natural Gas Production to 2020
Canadian Gas Exports to 2020
North American Pipeline Costs
U.S. Gas Production Outlook to 2020
Associated Gas Production Outlook to 2020
Gas Price Differentials Forecast to 2020
Henry Hub Gas Price Outlook
Natural Gas Production Headwinds & Tailwinds
North American Natural Gas Storage
Unconventional Natural Gas Demand
Mexico Natural Gas Outlook to 2020
About Ziff Energy
Ziff Energy, a division of HSB Solomon Associates LLC (Solomon), provides upstream performance assessment/improvement and custom consulting to the worldwide energy industry in more than 40 countries, and natural gas consulting services in North America. Solomon is the world's leading performance improvement company for energy companies seeking to identify and close gaps in operational performance. Combining proven, patented methodologies with objective data analysis, and led by a team of oil and gas consultants steeped in hands-on operational experience, Solomon consistently helps clients with energy-intensive assets achieve greater efficiencies, enhanced reliability, and improved margins. Solomon is part of HSB Group, Inc. Learn more about Ziff Energy at http://www.ZiffEnergy.com. For information about Solomon, visit http://www.SolomonOnline.com.