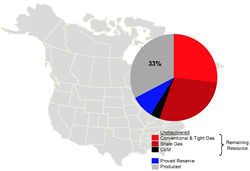 Calgary, Alberta (PRWEB) January 16, 2014
Ziff Energy, a Division of HSB Solomon Associates LLC, today announced the release of its report titled, "North American Ultimate Potential Gas Resource." The report presents the ultimate resource potential for Appalachia, the Gulf Region, the Mid-Continent/Permian basin, the Pacific, Alaska, and Canada. It features a breakdown on the remaining resource of undiscovered conventional gas, tight gas, shale gas, and coalbed methane. The report also includes details of Ziff Energy's methodology for resource estimation of selected plays.
"Ziff Energy has created preliminary estimates of the technically recoverable ultimate potential of Montney, Horn River, Liard, and Duvernay plays," says Simon Mauger, P.Geol., Director, Gas Supply and Economics, and report author. "The report also includes detailed analysis of Marcellus and Eagle Ford with breakdown on dry-lean, wet, rich gas, and condensate resources," says Mauger.
Other recent Ziff Energy reports include:

North American LNG Exports to 2020
Growth of North American Natural Gas Demand to 2020
Western Canada Oil Production Outlook to 2020
Gas for Power Generation to 2020
2012 US and Canadian Gas Reserve Replacement
Western Canada Natural Gas Production to 2020
Canadian Gas Exports to 2020
North American Pipeline Costs
US Gas Production Outlook to 2020
Associated Gas Production Outlook to 2020
Gas Price Differentials Forecast to 2020
Henry Hub Gas Price Outlook
Natural Gas Production Headwinds & Tailwinds
North American Natural Gas Storage
Unconventional Natural Gas Demand
Mexico Natural Gas Outlook to 2020
About Ziff Energy
Ziff Energy, a division of HSB Solomon Associates LLC (Solomon), provides upstream performance assessment/improvement and custom consulting to the worldwide energy industry in more than 40 countries, and natural gas consulting services in North America. Solomon is the world's leading performance improvement company for energy companies seeking to identify and close gaps in operational performance. Combining proven, patented methodologies with objective data analysis, and led by a team of oil and gas consultants steeped in hands-on operational experience, Solomon consistently helps clients with energy-intensive assets achieve greater efficiencies, enhanced reliability, and improved margins. Solomon is part of HSB Group, Inc. Learn more about Ziff Energy at http://www.ZiffEnergy.com. For information about Solomon, visit http://www.SolomonOnline.com.