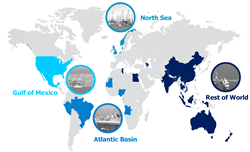 Calgary, Alberta (PRWEB) June 18, 2014
Ziff Energy, a division of HSB Solomon Associates LLC (Solomon), today announced the launch of its Worldwide Offshore Production Operations Performance Analysis (Offshore Study) with Solomon. This new, upstream benchmarking study is a multi-client initiative that assesses offshore asset performance for similar types of operations either within a given region or globally for 2013–2014. The study will first be conducted in 2015 and then biannually thereafter.
Over the last 20 years, Ziff Energy has conducted numerous offshore benchmarking studies for a large number of producing operators, including national oil companies. During this time, Ziff Energy has assessed more than 1,000 offshore assets in 20 different countries. Solomon, the world leader in downstream and midstream operational performance benchmarking, has pioneered patented normalization methodologies that enhance peer-to-peer asset performance comparisons. Together, Ziff Energy and Solomon have adapted these methodologies for the upstream segment to augment Ziff Energy's traditional "in basin" peer group comparisons. The normalization methodology levels the playing field when it comes to the size and complexity of each offshore asset, providing better identification of realistic improvement opportunities.
Offshore assets will be compared within three large categories of assets in several regions of the world. The two primary areas of focus will be operating costs and production maximization (uptime reliability). Ziff Energy has established a number of metrics for both aspects of operational excellence critical to offshore success. The current, strong oil price means production uptime is important to maximizing revenue. Meanwhile, strong cost inflation means optimizing operational expenditure (OpEx) is important to maintaining margin and cash flow. Efficient OpEx performance is critical in sustaining a competitive edge during periods of crude price instability.
In addition to analyzing significant cost drivers for the various production systems, the Offshore Study will provide a valuable competitive perspective and offer consolidated company-level performance to track companies' regional and global offshore OpEx and production efficiency.
Participation will enable clients to drive their offshore operations performance to higher levels of excellence and establish their companies' competitive position among offshore operators.
For more information, please contact Paul Ziff, Executive Vice President of Ziff Energy by phone at 403.234.4276 or by email at Paul(dot)Ziff(at)ZiffEnergy.com. Richard M. Tucker, Vice President of Marketing and Client Relations for Ziff Energy, is also available by phone at 713.985.5183 and by email at Richard(dot)Tucker(at)ZiffEnergy.com.
About Ziff Energy
Ziff Energy, a Division of HSB Solomon Associates LLC (Solomon), provides upstream performance assessment/improvement and custom consulting to the worldwide energy industry in more than 40 countries, and natural gas consulting services in North America. Solomon is the world's leading performance improvement company for energy companies seeking to identify and close gaps in operational performance. Combining proven, patented methodologies with objective data analysis, and led by a team of oil and gas consultants with extensive hands-on operational experience, Solomon consistently helps clients with energy-intensive assets achieve greater efficiencies, enhanced reliability, and improved margins. Solomon is part of HSB Group, Inc. Learn more about Ziff Energy at http://www.ZiffEnergy.com. For information about Solomon, visit http://www.SolomonOnline.com.