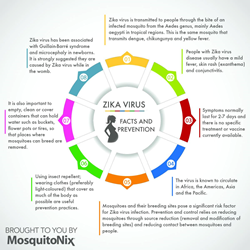 We're a little in the dark here when it comes to the consequences of Zika and what the actual breadth of the outbreak will truly be in the United States.
(PRWEB) February 03, 2016
Local mosquito control company MosquitoNix has come out in full force to support local communities in light of the Zika virus outbreak. The World Health Organization reported its first confirmed case of the Zika virus in the United States from a non-traveling St. Croix citizen on January 25th. They announced Thursday they will assemble in an emergency meeting to decipher the most effective way to stop the transmission of the Zika virus, which officials said is "spreading explosively" across the Americas. 
In the interim, MosquitoNix, already a partner in fighting malaria with NetsforLife, is offering itself on many levels to the community in order to educate on a mass scale as well as treat local public parks, playgrounds, and community areas where allowed at no cost. "Protecting expectant mothers should be our number one priority right now," MosquitoNix Executive David Touwsma says. Touwsma serves on the Board of Directors for the Georgia Mosquito Control Association and will be part of hosting the American Mosquito Control Association annual convention in 2 weeks where Zika will be a very important topic of conversation. "We're a little in the dark here when it comes to the consequences of Zika and what the actual breadth of the outbreak will truly be in the United States," Touwsma says. "The World Health Organization cautions citizens to take the strong link between Guillain-Barré syndrome and microcephaly in newborns to Zika seriously and we intend to do just that. We have been through this type of scare before with West Nile Virus. Zika appears to have a higher alert and more serious implications at this time, but the approach is exactly the same as we have been doing for over 10 years, which is to educate and protect." 
According to the Centers for Disease Control and Prevention, Zika virus is transmitted to people through the bite of an infected mosquito from the Aedes genus. This is the same mosquito that transmits dengue, chikungunya, and yellow fever. Though most people with Zika virus disease usually have a mild fever, skin rash, and conjunctivitis, and those symptoms normally last for 2-7 days, there is no specific treatment or vaccine currently available, but what is particularly frightening about Zika, is its potential to affect pregnant women and babies in the womb, which, according to Margaret Chan of the World Health Organization makes the potential pandemic dramatically different than what epidemiologists have seen with past outbreaks of Zika. 
Since there is no vaccine to prevent Zika, MosquitoNix's Touwsma recommends that if you do spend time outdoors, wear light colored clothing that covers as much of the body as possible, use EPA registered insect repellent, and consider hiring a mosquito control professional to eliminate the pests and avoid being bitten. "Prevention is the key to avoiding infection," he says. 
Touwsma, along with other MosquitoNix experts, have made themselves available to local news stations and schools in order to inform and educate citizens of the potential dangers of Zika. Their service areas include the South and Southeastern United States. If communities want to take advantage of their educational program or their complimentary spray service of public parks and community areas, they encourage them to reach out. Contact David Touwsma at dtouwsma(at)mosquitonix(dot)com. 
Founded in 2003, MosquitoNix has been committed to safely and effectively eradicating mosquitos from private yards and public areas, protecting families and their pets. Through an unwavering pledge to excellence and customer service, MosquitoNix's main objective is to safeguard their clients, making it comfortable to "Live Outside Again." Guard your family today at http://www.mosquitonixmosquitocontrolmistingsystems.com.