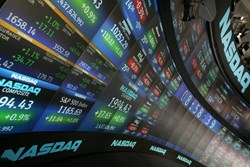 There's nothing really as adrenaline pumping as going onto a live trading floor
London, UK (PRWEB UK) 5 September 2013
"There's nothing really as adrenaline pumping as going onto a live trading floor and seeing all fast paced action that takes place. Unfortunately not many people have had the chance to experience it for themselves. So we decided to launch "The Trading Floor"." States Charles Berry co-founder of Zing Events.
"We always wanted to develop something unique, that not only is a great team based event but also something that would be a whole lot of fun. When we decided to set up the business last year our number one goal was to do something new in the market."
"We chose the Stock Market concept because it ticked so many boxes that make any team building event a fantastic experience for anyone who takes part. "The Trading Floor" is an authentic simulation of a live trading floor similar to those you could find in any of the world's financial centres such as Wall Street or in the "City" here in London. There is nothing quite like it. The players can experience the immense highs and lows that come with being a city trader. Not only is it a team based event it pushes individual's players instincts, intuition and decision making to a whole new level. The winning team is the one that has banked the most profits throughout the course of the trading day."
Each team must appoint their own members into designated roles such as Finance manager, Investment analyst, Media analyst and Floor Trader who together must formulate a plan to execute and bank the most profits from buying and selling shares in a wide range of industries including Aviation, Pharmaceutical, Automotive and Construction industries to name a few.
"We are really excited about this concept and have been working on it for the last 12 months so we can provide the most life-like simulation there is to an actual real trading floor. The team must work together to analyse data provided from a media hub that provides information about future share prices and execute the plan quickly in order to make quick profits. The feedback so far has been fantastic and really pulls a team together under pressure which is the whole point of the exercise."
With over 15 years combined experience within the industry and having worked some of the largest corporate organisations the co-directors at believed the team building industry was stagnating in general with people offering the same old stuff which in most instances had become really outdated with clients wanting a whole new type of team building event for their staff.
For more information on how Zing Events can help you have a Team building day to remember please contact contact(at)zingevents(dot)co(dot)uk / http://www.zingevents.co.uk / 0845 689 0602