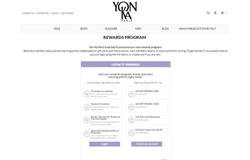 "We have seen a 48% increase in revenue compared to last year and this increase is directly attributable to the Zinrelo loyalty rewards program. This is phenomenal!"- Brittany Boykow, E-Commerce Manager & Digital Marketing Analyst at Yon-Ka Paris
SAN JOSE, Calif. (PRWEB) March 27, 2019
Zinrelo announced today that its loyalty rewards platform helped Yon-Ka Paris achieve a 48% increase in revenue.
Yon-Ka Paris established in 1954 is a French skin care brand, pioneer and leader in aromatherapy. Yon-Ka Paris sells in the Business-to-Consumer (B2C) segment by targeting beauty needs of individual consumer. It also operates in the Business-to-Business (B2B) segment by selling to salons and spas. Being in a highly competitive vertical, Yon-Ka realized that they needed a robust customer retention strategy.
To establish a stronger connection with customers and increase revenue, Yon-Ka built the Yon-Ka Rewards Program using Zinrelo's modern-day loyalty rewards platform.
Yon-Ka offers customers multiple point earning opportunities with simple actions to create 360-degree engagement such as purchase on website, account creation, writing reviews, sharing on Facebook, Twitter and Pinterest. Customers can then redeem these points for discount coupons or free products. This mix of discounts and freebies ensures that customers are motivated to take actions to earn points.
"We have seen a 48% increase in revenue compared to last year and this increase is directly attributable to the Zinrelo loyalty rewards program. This is phenomenal!" commented Brittany Boykow, E-Commerce Manager & Digital Marketing Analyst at Yon-Ka Paris. "We can clearly see that our customers are more loyal because of the points system and the rewards associated with it. They continue shopping with us instead of going to our competitors because they want to redeem the points they have earned."
Yon-Ka is also smoothing its sales seasonality by offering bonus points during their typically slow months. This has increased their sales in the slow season.
Additionally , Brittany also stated, "Zinrelo was really simple to set up. I can control the entire program with ease . Since implementing Zinrelo, overall site sales have become more predictable."
According to a 2016 Statista report, the global beauty industry is estimated to be worth US$265 billion, with further expected growth of 15% by 2021. Customer loyalty is the key that unlocks the future of beauty retail. Ulta Beauty Ultamate Rewards and Sephora Beauty Insider are two examples of successful reward programs in the beauty industry. Yon-Ka Rewards Program has proved to be even better, delivering a significant increase in revenue.
Happy with the performance of the loyalty program on their B2C website, Brittany highlighted "We have seen a 57% increase in repeat customers and these loyal customers are contributing to 2.2X higher revenue compared to the one-time buyers."
"Zinrelo's loyalty rewards program is helping businesses to reach out and make deeper long-lasting connections with their customers. Loyalty ensures that customers do not go to competition, and this results in repeat business" stated Samir Palnitkar, VP of Customer Success at Zinrelo. "We are empowering businesses to create personalized loyalty rewards programs with ease."
About Yon-Ka Paris:
Yon-Ka offers skin care for face, body and sun, for men and women, imagined and developed by a family driven by a passion for botanicals. Since 1954, they have been growing from a small-scale operation to an international company with the same passion. They can be found in more than 50 countries, present in more than 5000 of the most exclusive spas and resorts, collaborating with dermatologists and plastic surgeons.
For more information visit: https://shop.yonkausa.com/
About Zinrelo:
Zinrelo is a modern-day, loyalty rewards program that maximizes repeat sales and per-customer revenue through 360-degree customer engagement. Zinrelo encourages multiple dimensions of loyalty including transactional, social, referral, engagement and behavioral loyalty. It supports omni-channel deployments that span across desktop, mobile as well as physical stores. Zinrelo's data driven approach is empowering brands to create powerful promotional strategies by fueling them with advanced data analytics.
To zing your loyalty and referral programs, contact Zinrelo at https://www.zinrelo.com or info(at)zinrelo(dot)com