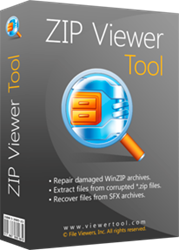 ZIP Viewer Tool, a powerful ZIP viewer now featuring a new core.
Sacramento, CA (PRWEB) December 12, 2013
Viewer Tool, a company with a growing portfolio of highly efficient and intuitive data recovery tools and a reputation of one of the leading experts in this field, announces that a new version of ZIP Viewer Tool is now available for download and purchase from the official website. http://www.viewertool.com/
The update brings a host of important improvements, the key one being the integration of a brand-new recovery core based on proprietary file analysis algorithms. The core was developed by Viewer Tool specifically for this ZIP viewer and offers users improved performance, accuracy of data recovery and an incomparably higher success rate in the most complex situations. http://www.zip.viewertool.com/
The program efficiently recovers data from damaged ZIP files of any size, preserving the original source file. ZIP Viewer Tool also supports data recovery from password-protected and encrypted ZIP archives (manual password entry is required in this case). Since the program was developed for regular users with no special knowledge or skills, the interface of this ZIP viewer was minimized and simplified to the maximum – it uses an intuitive step-by-step wizard to guide the user through the process of files selection, data preview, selection of the destination folder and actual data recovery. http://www.viewertool.com/downloads.html
The software is fully compatible with all major versions of the Windows OS and requires no additional components, such as frameworks or libraries, to operate.
"We are delighted to present the all-new ZIP Viewer Tool, since it's always been one of our bestsellers," explained Senior Product Manager at Viewer Tool. "ZIP files get damaged very often during direct transfers or downloads, and we are very proud to offer one of the very best ZIP recovery tools on the market." http://www.viewertool.com/contacts.html