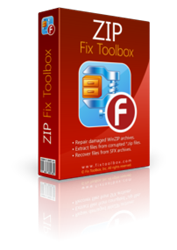 an advanced ZIP file fix program intended for the mass market and users of all skill levels.
Sacramento, CA (PRWEB) January 26, 2014
Fix Toolbox, one of the most respected data recovery expects on the global market and a supplier of a broad range of data recovery solutions for many popular applications, is glad to announce the availability of the latest version of ZIP Fix Toolbox, a ZIP file fix tool capable of extracting data even from the most severely damaged files. http://www.zip.fixtoolbox.com/
The newest version of the product is based on a completely new file analysis core and a number of intelligent algorithms that work together to offer the highest level of recovery efficiency and accuracy. A host of minor functional improvements guarantee stability of operation and improved speed of recovery. The interface of this ZIP file fix solution uses a convenient and intuitive wizard to guide the user through all stages of the process by showing a few dialogs and prompts. http://www.winzipfix.com/
The software fully automates data recovery and does not require that the user have any prior recovery experience or corresponding skills. The program comes with a preview module that enables users to mark particular items for recovery and generally assess the scale of file corruption. ZIP Fix Toolbox supports all versions of ZIP archives, including self-extracting (SFX) archives, has no limitations on the size of source files (works with files over 2 GB in size), repairs CRC checksums and never modifies files during recovery, which leaves the user an opportunity to resort to alternative recovery methods, if need be. http://www.fixtoolbox.com/products.html
"We are extremely pleased to present this ZIP file fix solution, because we have managed to reach a totally new level of recovery efficiency with this release," noted Boris Bobrov, Head of Development at Fix Toolbox. "Migration to the new engine that we developed allowed the program to dramatically increase its efficiency, performance and overall reliability.
You can now be sure that no matter how badly your archive is damaged, ZIP Fix Toolbox will do the trick and get your files out of it in no time!" http://www.fixtoolbox.com/download.html