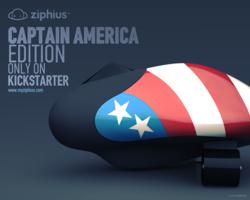 San Francisco, CA (PRWEB) July 03, 2013
Ziphius, the aquatic drone currently available for preorder on Kickstarter, unveiled a new stars and stripes outfit for the Fourth of July holiday today. Available in a limited quantity, the $225.00 patriotic design pays homage to Peter Fonda's iconic "Captain America" motorcycle from the classic 1969 film "Easy Rider".
Ziphius is the world's first aquatic drone that users can control with their iOS or Android smartphone or tablet. Ziphius is the proud winner of Engadget's first Insert Coin competition. Here are some of the features planned for the robotic device.
•Fast & Powerful: High performance turbines reach up to 6 MPH
•Video: A 160º tilting angle HD camera and LED light lets it see above and below the water level
•Long Range: 300 foot range via WiFi enabled extra-sensory dorsal antenna
•Hydrodynamic: Optimized design enables Ziphius to always stay upright
•Autonomous Behavior: Ziphius recognizes shapes and colors and can mimic emotions through it's LED dorsal fin
•Augmented Reality: AR games will enhance gameplay and interaction
•Social Media: Onboard WiFi, allows upload directly to YouTube, Twitter or Facebook
Also, due to popular demand, Ziphius announced another batch of $199.00 units for their Kickstarter campaign, effective immediately.
The award winning Ziphius can be pre-purchased on Kickstarter until July 24th.
More about Ziphius
Ziphius is the first app-controlled aquatic drone, powered by a Raspberry Pi that operates in sea and fresh water. Ziphius is excellent for entertainment or for environmental monitoring. Through a direct Wi-Fi connection, you use an Android or iOS tablet or smartphone to control the aquatic drone's powerful motors and its camera's vertical position, as well as watch a live video feed while playing Augmented Reality games using the camera feed. Ziphius has interchangeable, separately sold chassis, in several colors, to suit different purposes or simply for personalization purposes.
About Azorean
Azorean (http://www.azorean.eu), a spinout of parent company YDreams, aims to achieve a leading role in the ocean sector by creating affordable drones that change the way people relate with water. The company headed by university professors and researchers in areas that range from Augmented Reality, Virtual Reality, and Environmental Engineering, is channeling their efforts towards developing innovative tools for the aquatic world.
Their first flagship product, created in 2012 in the Azorean archipelago, is the aquatic drone Ziphius, controlled by smartphones or tablets that allow users a first person view of the underwater world.
Press:
John C. Rodriguez (J-Ro)
Stage Two
john(at)stagetwo(dot)com
512-748-6175
Cristina Gouveia
COO Azorean
cristina(dot)gouveia(at)ydreams(dot)com