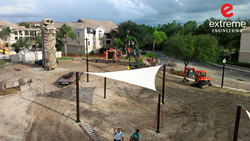 It's all new at Extreme Engineering...bigger, better and more extreme.
Sacramento, CA (PRWEB) October 01, 2014
Extreme Engineering, the largest supplier in zip lines, climbing walls and Extreme Airs™ is debuting the next generation of thrills at this year's amusement industry trade show, IAAPA. The High-Action Adventure™, Extreme Engineering's latest major amusement ride solution, provides theme parks and resorts the future in entertainment. The High-Action Adventure™ is aimed towards resorts and theme parks looking to enhance their property with fun, thrilling attractions that attract the millennial audience. Extreme Engineering's packaged solution provides multiple attractions in one place, from zip lining, rock climbing, air jumping to rope courses.
Philip Wilson, VP of Marketing with Extreme Engineering states, "It's all new at Extreme Engineering. We have a new website, new company logo, new product offering and are expanding the major theme park ride sector. Our large clients wanted something new, so we are now debuting the High-Action Adventure™ and Rapid Gravity Ride™ at IAAPA this November." Today Extreme Engineering provides over a dozen theme parks and resorts with popular, adventure products, such as zip lining, air jumping, rock climbing and rope courses, to attract youthful customers. At IAAPA's annual convention in November, Extreme Engineering will be displaying the "High-Action Adventure™" and "Rapid Gravity Ride™" at their company's booth, booth number 3700. Wilson states, "We have a lot of exciting things to show the amusement industry. We have been able to resolve multiple industry issues such as attracting the millennial audience, enhance existing facilities with tall, interactive attractions, provide memorable experiences on-site and give resorts or theme parks the opportunity to upsell their clients." Extreme Engineering's new slogan "We Are Your Adventure Enthusiasts" has allowed the company to clearly address the pressing issue, attracting the next generation of thrill-seekers.
As the world's largest supplier in patented zip lines, climbing walls and adventure products for the amusement and resort industries, Extreme Engineering manufactures award winning products for entertainment enthusiasts on an international level. These thrill seeking products resonate with safety and quality. Theming a High-Action Adventure™ or Rapid Gravity Ride™ is limitless. "You can theme the High-Action Adventure™ as a pirate cove, lost temple, jungle or even an adventure safari. Theming allows co-creation to exist in the market. We get our customers to interact by helping create a unique adventure that will speak to their future guests," states Wilson.
About Extreme Engineering
With over 19 years in experience and 5,000 customers worldwide, Extreme Engineering has provided extreme thrills to customers such as Disney, Six Flags, NASA, US Military, Westgate, Marriott and many more. As the original creators of the mobile climbing walls and Auto-belay™ systems, Extreme Engineering has been globally recognized as the primary supplier in zip lines, mobile and stationary climbing walls and extreme, interactive fun. Extreme Engineering is the first company in amusement history to achieve the amazing honor of "Best New Product" 5 years in a row and 8 consecutive industry awards. For more information on Extreme Engineering, please visit http://www.extremeengineering.com, or email Philip Wilson at [email protected]