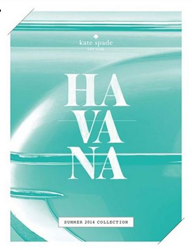 Boston, MA (PRWEB) June 24, 2014
With the help of the Publicator digital publishing platform from Zmags, kate spade new york's 2014 Summer Style Guide not only showcases the brand's stylish, colorful collection, but also immerses shoppers in the world of kate spade new york. The guide is completely shoppable and brings the brand's summer advertising campaign to life. As shoppers click through the magazine, they discover style blogs and other interesting content and are also able to seamlessly add items to their shopping carts.
Supported by Zmags' industry-leading creative and technical support team, kate spade new york leveraged the Zmags' Demandware extension and HTML5 viewer to embed content on the kate spade new york website and deliver the brand's robust, high-impact Summer Style Guide consistently across all platforms, including desktops, laptops, tablets and mobile. Demandware allowed kate spade new york to directly integrate their shopping cart into the publication, keeping viewers engaged with every page and driving more conversions.
Digital publishing solutions from Zmags allow designers, developers and content creators to upload PDFs to the Publicator platform and easily convert content to HTML5. Once uploaded, these users can add video, animations and interactive elements to drive purchasers' brand engagement. They also can embed eCommerce capabilities and promote sharing through social media to increase the publication's reach and impact.
About Zmags
Zmags unlocks new revenue opportunities for retailers and marketers by delivering fully branded, commerce-enabled digital experiences. The company's platform creates immersive brand and commerce experiences across all digital media including tablet, mobile, social and web channels. Featuring an easy-to-use, drag and drop interface, Zmags's solutions make digital publishing simple, increase customer engagement and provide an exceptionally strong return on investment.
Headquartered in Boston, with offices in London and Copenhagen, Zmags currently works with more than 2,000 leading brands, including kate spade new york, Tesco, Brahmin Leather Goods, Matalan, Spanx, The Container Store, Magasin and Sub-Zero Wolf.
To learn more, visit http:/http://www.zmags.com or follow us on Twitter: @zmags.
About kate spade new york
In 1993, Kate Spade designed the utilitarian bag she had been craving for years but couldn't find anywhere and so began a revolution in the accessories market. Simple silhouettes with clever details and crisp palettes soon established a visual shorthand for the brand that's recognizable the world over.
In 2007, Kate Spade turned the reins over to the design powerhouse Liz Claiborne Inc., which then became Fifth & Pacific Companies Inc, and now operates under Kate Spade & Company. Deborah Lloyd, formerly of Banana Republic and Burberry took the helm as Chief Creative Officer with an aim to broadening the line while honoring Kate's rich history. Today you'll find the brand on the arms of women everywhere with nearly 300 kate spade new york stores worldwide and a thriving eCommerce business.