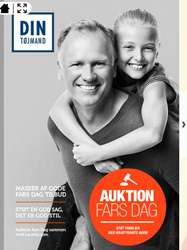 Its simple & intuitive interface makes the platform simple to use and is a great way to go from print to digital. — Jakob Cramer Holme of Nørgård Mikkelsen
Copenhagen, Denmark (PRWEB) July 15, 2014
Din Tøjmand, a men 's retailer with 75 stores throughout Denmark, features a frequently updated selection of contemporary apparel. To let customers know what's new while it's still new, Din Tøjmand's communications agency, Nørgård Mikkelsen, sought an easy-to-use, cost effective digital publishing platform that was interactive and cross-platform enabled. The ability to link to web-based commerce on the retailer's site was also a must.
Nørgård Mikkelsen, a brand, retail and B2B-focused agency based in Copenhagen and Odense, selected Zmags' Prism Publicator platform not only to achieve these goals, but also to create beautiful and effective online experiences. Zmags' Prism Publicator platform has proven to be a high-impact solution both for Din Tøjmand and other clients.
Nørgård Mikkelsen recently leveraged many of the platform's capabilities to create a special catalog designed to raise money for a foundation for families with children diagnosed with cancer (Familier Med Kræftramte Børn). The catalog was created for a Father's Day promotion in partnership with retailer and auctioneer Lauritz, wherein Din Tøjmand auctioned off 30 high-end suits worth up to $800 (5,000 krona).
"The responsive technology in Zmags' Prism Publicator platform along with the interactive elements has really made the magazine come alive. Its simple & intuitive interface makes the platform simple to use and is a great way to go from print to digital," said Jakob Cramer Holme of Nørgård Mikkelsen.
The Father's Day catalog delivered an engaging, interactive experience for customers, including product detail lightboxes and animiations—all built-in features of the Prism Publicator platform.
To drive more traffic to the auction, Nørgård Mikkelsen took advantage of Publicator's social sharing ability to link the content to Facebook. The catalog, built in HTML5, enabled a consistent brand experience across all platforms—from desktops to mobile to tablets—and helped to raise funds for a great cause.
See the Din Tøjmand Father's Day Catalog, created by Nørgård Mikkelsen in Prism Publicator, here.
About Nørgård Mikkelsen
Nørgård Mikkelsen is an advertising and communications agency with approximately 90 employees and offices in Odense and Copenhagen.
About Zmags
Headquartered in Boston, with offices in London and Copenhagen, Zmags unlocks new revenue opportunities for retailers and marketers by delivering fully branded, commerce-enabled digital experiences. The company's platform creates immersive brand and commerce experiences across all digital media including tablet, mobile, social and web channels. Featuring an easy-to-use, drag and drop interface, Zmags' solutions make digital publishing simple, increase customer engagement and provide an exceptionally strong return on investment.
Zmags currently works with more than 2,000 leading brands, including Tesco, Brahmin Leather Goods, Matalan, Spanx, and advertising agencies including The New Media Agency, RITTA and Nørgård Mikkelsen.
To learn more, visit Zmags.com or follow us on Twitter: @zmags.