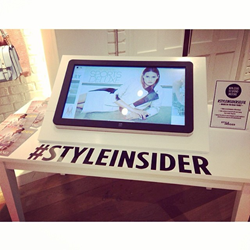 The total time for the project, from content-ready to go-live, was only five days.
London, UK (PRWEB) April 22, 2014
With more than 300 retail locations around the world, London-based River Island has stayed ahead of the fashion curve for 63 years, and customers rely on its Style Insider publication to keep up with the latest looks. To celebrate the opening of its new flagship location in London's busiest shopping district, River Island decided to up the Style Insider ante.
"We wanted to give our customers an enriched version of the Style Insider magazine experience," explains River Island Online Marketing Manager Angela Asiedua. The company approached Boston-based Zmags, a leading global self-service digital publishing software innovator, to create a digitally optimized, interactive version of the popular publication.
Zmags leveraged existing Style Insider assets with added functionality from the Zmags Professional platform to create a "pop-up" installation in the new flagship store. The eye-catching, all-white installation—displayed with a 42" touchscreen—enabled embedded interactivity that included video content and immersed River Island customers in the magazine's features. The installation also included an embedded call to action to enter a contest via Instagram, creating a true multi-channel experience.
The total time for the project, from content-ready to go-live, was only five days. "Zmags solved all the technical challenges up front so that implementation went smoothly and without the need for additional IT services," Asiedua says. "With some great technology, a little social media and a fantastic tool in Zmags, we feel we gave our customers an enriched, interactive in-store experience." She adds that Zmags successfully simplified what could have been a costly and time-consuming multichannel project. The Professional platform also allowed River Island's in-house designers to drive the content and control the customer experience.
About Zmags
Headquartered in Boston, with offices in London and Copenhagen, Zmags unlocks new revenue opportunities for retailers and marketers by delivering fully branded, commerce-enabled digital experiences. The company's self-service platform creates immersive brand and commerce experiences across all digital media including tablet, mobile, social and web channels. Featuring an easy-to-use, drag and drop interface, Zmags's solutions make digital publishing simple, increase customer engagement and provide an exceptionally strong return on investment.
Zmags currently works with more than 2,000 leading brands, including Tesco, Brahmin Leather Goods, Matalan, Joules, Spanx, The Container Store, Magasin and Sub-Zero Wolf.
To learn more, visit http://www.zmags.com or follow us on Twitter: @zmags.