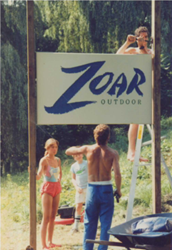 We love connecting people to each other and to the outdoors.
(PRWEB) February 28, 2014
In May of 1989, canoe racer, Bruce Lessels found himself with no clear plans for the future and a realization that, at 28, perhaps his racing days were over and it was time to find a career. On a whim, he started brainstorming with a friend about how much fun it would be to run an adventure center based out of the Berkshires in Massachusetts, and within two months Zoar Outdoor Adventure Resort was up and running, taking guests on whitewater trips on the Deerfield River. Now celebrating 25 years in business Zoar Outdoor has become a leader in whitewater rafting, instruction, and zip line canopy tours.
A life-long paddler and past member of the US Whitewater Team, Lessels was uniquely positioned to open a whitewater business. "Convincing my wife, Karen, and our founding partner, Peter Franzoso, to come along for the ride was easier than I thought it might be," he recalls. The team of three chose Charlemont, Massachusetts for their base because of its convenient access to the Deerfield River, a dam-controlled river that offered both great rapids and regulated water levels throughout the summer. They quickly went about building the company, setting up shop in the downstairs part of the oldest house in Charlemont. By July of that year, the company was running its first guests down the Zoar Gap section of the Deerfield River.
"When we started in 1989, whitewater rafting was our bread and butter," Lessels recalls. That first summer, Zoar Outdoor guided 300 people down the Deerfield River. Now, the company takes about 12,000 guests down the Deerfield, Millers, West and Concord Rivers every year. The company has also grown to include whitewater instruction for both kayakers and canoeists, as well as rock climbing instruction. Most recently, Zoar Outdoor built a zip line canopy tour in 2009, nearly doubling the size of the company in a single stroke.
The company's growth over the years speaks to the commitment of Lessels and Blom, as well as their dedicated staff. They've built the company around a philosophy of building connections with guests and empowering people to push their boundaries through adventure.
"We love connecting people to each other and to the outdoors," says Lessels, "and we see rafting and other guided programs such as zip lining as gateway activities that offer great introductions to the outdoors or periodic reconnection opportunities."
The very property that Zoar runs out of is a testament to its success and growth; The red building that once served as both home and whitewater outfitter in 1989 today houses a kayak retail shop, a space for whitewater instruction, and the company's offices. The company's property has grown to 86 acres, and now includes that original building along with several pavilions, a campground, a lodge, and the zip line canopy tour.
Now in its 25th year, Zoar Outdoor is celebrating the success of that whim tossed around among friends on a summer day and looking forward to many more years of adventure.