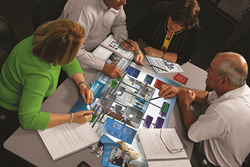 We've been able to reach a significant number of people with Zodiak—a tool that enabled us to explain financial concepts to non-financial people.
St. Petersburg, FL (PRWEB) May 14, 2014
Paradigm Learning, a leader in working with clients to align employees around strategic vision and develop their business-critical skills, has announced that it will now be offering its flagship Zodiak business acumen development approach in a comprehensive, customizable, systems-oriented solution for healthcare organizations. At the heart of the solution is Zodiak®: The Game of Business Finance and Strategy for Healthcare Organizations.
According to Cathy Rezak, chairman of the board and co-founder of Paradigm Learning, the multistep approach ensures that staff clearly understand the issues that healthcare leaders face every day in the marketplace, as well as their own organization's critical strategic initiatives and financial imperatives.
"The Zodiak simulation engages learners in a realistic but fictional storyline [one that's tailored to the nuances of each organization and its business strategies] in which they assume roles as part of the new executive team at Zodiak Hospital," Rezak said. "During the one-day, customized learning experience, teams are challenged to implement new patient-care, staffing, resource-management and investment strategies to improve financial results amid a climate of unforeseen risks and unpredictable events."
"Using a game board and an iPad®, the Zodiak experience for healthcare organizations fuels a dramatic shift in mindset even while the session is in motion—a process that helps learners visualize doing things in different ways than before," Rezak explained. "By engaging multiple levels of managers and employees with a tailored solution, at the right time with the right messages, we are able to align an organization's people around the processes and skills that translate to desired outcomes—ultimately improving the quality of patient care."
Expanding on Rezak's comments, Phil Wagar, former director of organization effectiveness for Premier Health Partners, spoke highly of how the Zodiak experience strengthened his staff's understanding of the healthcare environment and their commitment to the vision and strategies of his organization. He also noted the experience inspired the development of new thinking and new behaviors.
"We've been able to reach a significant number of people with Zodiak—a tool that enabled us to explain financial concepts to non-financial people," Wagar said. "It's a difference that's a benefit to the patient and to the bottom line of the hospital."
Rezak summarized that Paradigm Learning works with healthcare organizations to encourage and empower people by improving their business acumen—an advantage that has direct and positive impact: "When staff at all levels become aligned with the strategic and financial goals of their organization, and learn where they fit into the big picture of success, they can—and will—take quicker, more effective actions back on the job."
To learn more about Paradigm Learning's unique solutions for healthcare organizations, call 727.471.3170 or visit ZodiakHealthcare.com.
About Paradigm Learning
For 20 years, Paradigm Learning has been a leader in helping client organizations align employees around their strategic vision and develop the business-critical skills needed to execute on that vision. Along the way, the company has designed award-winning business games, simulations and Discovery Maps® that engage employees, accelerate learning and create new behaviors on the job.
The company's powerful discovery learning approach has been used to address leadership accountability, project management, team effectiveness, talent leadership, change implementation, employee orientation and more. Paradigm Learning's flagship business acumen development solution, Zodiak®: The Game of Business Finance and Strategy, has been implemented with over one million managers and employees worldwide, driving strategic execution and financial results through the engagement and development of people.