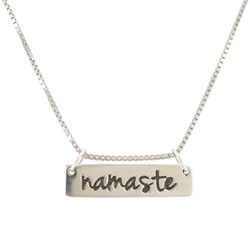 This necklace helps the wearer keep the principle of Namaste—we are all one when we live from the heart—top of mind.
Mesa, Arizona (PRWEB) December 19, 2013
Zoe + Piper (http://www.zoeandpiper.com) will participate in an invitation-only luxury celebrity gift lounge hosted by GBK Productions in honor of the 2014 Golden Globes Nominees and Presenters, where its sterling silver Namaste Word Necklace will be gifted to press and media stopping by The Artisan Group® exhibit. The Gift Lounge will take place January 10-11, 2014 at an exclusive location in Beverly Hills, California.
When The Artisan Group®, a juried, by-invitation-only arts promotion organization, whose mission is to advance the handcrafted movement, invited Zoe + Piper to include a piece of its jewelry in its Press Gift Bags for GBK's Golden Globes Gift Lounge, Zoe + Piper was immediately up for the task. After giving it some thought, they decided the Namaste Word Necklace would be a wonderful fit.
Designed by Zoe + Piper and handcrafted in the U.S.A., it features a fun and whimsical font that spells out the word 'Namaste.' The pendant measures one quarter inch tall by one inch wide and hangs from a rhodium-plated sterling silver box chain.
"This necklace helps the wearer keep the principle of Namaste—we are all one when we live from the heart—top of mind," remarked Sienna Olin Kittelman, co-founder of Zoe + Piper. "We couldn't be more pleased to be able to include it in The Artisan Group® Golden Globes Press Bags."
Zoe + Piper's Namaste Word Necklace is priced at $38.00 and is available in 16" and 18" lengths at zoeandpiper.com. Facebook fans receive free shipping and 15 percent off through Monday, December 23.
Watch a Zoe + Piper video.
In other news, Zoe and Piper, in association with The Artisan Group®, recently gifted the multi-talented, actress and singer Selena Gomez at her November 6th Staples Center concert in Los Angeles. After the concert, during a backstage after-party, Ms. Gomez was gifted Zoe + Piper's Citrine Clover Earrings and Citrine Clover Necklace. Her band and crew, along with special VIP guests that attended the after-party, were gifted Zoe + Piper's hammered gemstone earrings.
Earlier this year, Zoe + Piper Herbivore Word Pendant was included in a special collaborative gift bag prepared by The Artisan Group® in honor of 2013 Earth Day. The gift was delivered to high-profile, eco-conscious Hollywood celebrities, including Hayden Panettiere, Ginnifer Goodwin, Edward Norton, Adrian Grenier, Kate Bosworth, P!nk, Leonardo DiCaprio, Rachel McAdams and Emily VanCamp, among others.
Zoe and Piper started out as a family jewelry business, back in 1997. Known as Taos Trading, the company specialized in Native American handmade jewelry. Gradually it expanded its southwestern jewelry to include Asian influences, whimsical pieces and traditional Celtic symbols, as well as children's jewelry.
According to Kittelman, "When we decided to start making our own jewelry line, the creative juices started flowing. What a rush it is to buy handfuls and strands of beautiful gemstones! Being able to sort through and hand pick out the gemstones we use is an exhilarating high, and then being able to create jewelry with these items is the icing on the cake."
Zoe and Piper was born with the desire to create a new line of sterling silver jewelry that showcased the founders' style and philosophy, which echoes the sentiment, "If only we could see the world through a child's eyes, wouldn't it be a better place?"
The company is proud to donate a portion of its proceeds to select animal sanctuaries and advocacy groups. "Working with and caring for animals has always been an important part of our lives, and this is our little way of giving back," says Kittelman.
To learn more about Zoe + Piper, contact Sienna Olin Kittelman by email. Become a fan on Facebook (ZoeAndPiper) and follow the company on Twitter (@ShopZoeandPiper). Shop Zoe + Piper at zoeandpiper.com.
For more information about The Artisan Group, visit theartisangroup.org.
ABOUT ZOE + PIPER
Zoe + Piper (http://www.zoeandpiper.com) is jewelry with a conscience. We specialize in unique jewelry, featuring beautiful gemstones, crystals and spiritual offerings. By using a combination of sterling silver, gold, copper and bronze we are able to create jewelry for everyday wear and your special occasions. We are happy to do custom orders, just contact us with your requests.