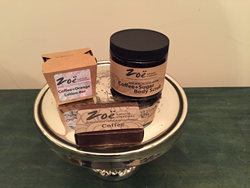 Our coffee-based products are a welcome wake-up for dull, tired skin, and that makes them a great winter-time treat!
North Charleston, SC (PRWEB) December 19, 2014
Award-winning handcrafted body care product company Zoe Natural Creations (http://www.ZoeNaturalCreations.com) is a-buzz about its upcoming participation in GBK's 2015 Golden Globes Celebrity Gift Lounge in association with The Artisan Group®. The company will have its Coffee Trio showcased on display, and its Coffee+Sugar Exfoliating Scrub will be gifted to celebrities. The Gift Lounge takes place January 9-10, 2015 at an exclusive location in Beverly Hills, California.
The Coffee Trio includes a Coffee and Orange Butter Lotion Bar, a Coffee+Sugar Exfoliating Scrub and a Coffee Bar Soap. It will be showcased to allow celebrities and VIPs stopping by The Artisan Group exhibit to smell and sample the products first hand.
The gifted Coffee+Sugar Exfoliating Scrub is handcrafted using organic unrefined cane sugar; locally sourced, ground organic coffee; expeller pressed sweet almond oil; orange and shea butter and rosemary, orange and cypress essential oils. The 16 ounce jar retails for $26.00 and is available to purchase at ZoeNaturalCreations.com.
When asked about her decision to gift the Coffee+Sugar Exfoliating Scrub, Wilkinson said, "Our coffee-based products are a welcome wake-up for dull, tired skin, and that makes them a great winter-time treat. Not only do they smell amazing, which goes a long way to keeping us feeling fresh and alert all day long, but coffee has strong antioxidant properties that help overcome free radical damage. It also can heal the skin, soothe irritation, and revitalize skin cells."
Other winter-friendly products on the Zoe Natural Creations skincare menu include Vapor Balm, Vanilla Cookie Sugar Scrub, Beard Oil, Peppermint Lime Lip Balm and Spice Sugar Scrub.
Zoe Natural Creations has been featured in the Organic Spa Magazine2014 Holiday Gift Guide and the Pretty Living Magazine Fall/Winter 2014 Bohemian issue. Natural Solutions Magazine has awarded the company a 2014 Beauty with a Conscience award for its Sore Muscle Bath Soak. Bello Magazine called out Zoe Natural Creations as a "personal favorite" in its "Buy Handmade This Year Holiday Gift Guide."
Zoe Natural Creations is a member of the by-invitation-only arts promotion organization The Artisan Group and as such, has gifted its products to numerous Hollywood celebrities and VIPs.
In honor of 2014 Mother's Day, celebrity moms including Gwen Stefani, Kerry Washington and Mila Kunis, received Zoe Natural Creations' Lavender Shea Body Butter. For 2014 Earth Day, Jessica Alba, Emma Watson, Edward Norton and other eco-conscious celebrities were gifted a Love Is All You Need Natural Handcrafted Soap Bar. Zoe Natural Creations included its Tattoo Balm and Peppermint Lime Lip Balm in celebrity gift bags for GBK's Luxury Gift Lounge for the 2014 MTV Movie Awards. The gift bag went to cast members from Grimm, The Good Wife, Hart of Dixie, Nashville, Parenthood, Scandal and Justified, among others. Its Chocolate Mint Soap Bar was gifted to singer/actress Selena Gomez, and its Lemongrass Bar Soap was included in celebrity gift bags at GBK's Luxury Gift Lounge for the 2014 Golden Globes.
To learn more about Zoe Natural Creations, visit contact Shawna A. Wilkinson using the email button to the right. Become a fan on Facebook (ZoeNaturalCreations), Twitter (@ZoeNaturalSC), Instagram (zoenaturalcreations) and Pinterest (ZoeNaturalSC).
ABOUT ZOE NATURAL CREATIONS
Family-run, South Carolina-based Zoe Natural Creations (http://www.zoenaturalcreations.com) is all about keeping it real. The company is passionate about creating body care products that look, feel and smell great. Zoe Natural Creations handcrafts all soaps, balms, butters and scrubs in small batches, which ensures freshness and efficacy.