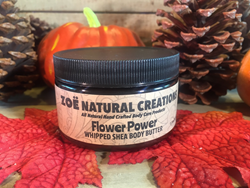 Our Whipped Body Butter is the perfect product for someone who loves pampering their body.
Simpsonville, South Carolina (PRWEB) January 03, 2017
Award-winning handcrafted body care company Zoe Natural Creations (http://www.zoenaturalcreations.com), in association with The Artisan Group®, will participate in GBK's Luxury Celebrity Gift Lounge honoring the Nominees and Presenters of the 2017 Golden Globes, where it will gift its Organic Unrefined Shea Butter and Coconut Oil Whipped Body Butter to celebrities and the press. The Gift Lounge takes place January 6-7, 2017 at an exclusive location in Los Angeles, California.
Zoe Natural Creations' Whipped Body Butter nourishes, hydrates and soothes skin while enticing the senses with a blend of whipped organic unrefined shea butter and coconut oil.
Founder Shawna Wilkinson says, "Our Body Butter is a customer favorite. It leaves thirsty skin feeling hydrated and smooth while providing essential nutrients to support skin health. This is the perfect product for someone who loves pampering their body."
Elaborating on the product's benefits, she notes that shea butter is a great option for parched or otherwise stressed skin. Packed with vitamins A, E and F, it works to help the skin to retain its natural elasticity and aids with prevention of premature wrinkles by boosting collagen production. Meanwhile, coconut oil is easily absorbed into the skin and works well as a moisturizer. The fatty acids in coconut oil reduce inflammation and moisturize, making them a great solution for all types of skin conditions.
Whipped Body Butter comes in a variety of appealing scents, including Band of Thieves, Calm Yourself, Flower Power, Frolic, Love Struck, Muse, Tea Tree & Eucalyptus and Wake Me Up. An unscented version is also available. A 4-ounce jar of scented Body Butter retails for $14.00. A 4-ounce jar of unscented Body Butter retails for $12.00. Both are available ZoeNaturalCreations.com.
Other winter-friendly products in the Zoe Natural Creations skincare line include a line of all-purpose body balms, Vanilla Cookie Sugar Scrub, Beard Oil, Peppermint Lime Lip Balm and Spice Sugar Scrub. Customers also love the company's Aromatherapy Pillows, which not only smell great but calm the senses and can be used cold or hot.
Zoe Natural Creations is recognized for its commitment to creating "good for you" products that showcase blended scents and help users to have great looking, smooth skin.
The company has been featured in Organic Spa Magazine's 2014 Holiday Gift Guide and Pretty Living Magazine's Fall/Winter 2014 Bohemian issue. Natural Solutions Magazine awarded the company its Beauty with a Conscience award in 2014 for its Sore Muscle Bath Soak. Bello Magazine called out Zoe Natural Creations as a "personal favorite" in its "Buy Handmade This Year Holiday Gift Guide."
The company's Coffee and Sugar Exfoliating Scrub was gifted cast members from "Jane the Virgin," "Birdman," "Boyhood," "Selma," "How to get Away with Murder" and others at GBK's Gift Lounge for the 2015 Golden Globe Awards nominees and presenters. Its Tattoo Balm and Peppermint Lime Lip Balm went to cast members from "Grimm," "The Good Wife," "Hart of Dixie," "Nashville," "Parenthood," "Scandal" and "Justified," at GBK's Gift Lounge for the 2014 MTV Movie Awards nominees and presenters.
In 2014, a Lemongrass Bar Soap was included in celebrity gift bags at GBK's Luxury Gift Lounge for the 2014 Golden Globes nominees and presenters. Other celebrities who have been gifted Zoe Natural Creations products include Gwen Stefani, Kerry Washington, Mila Kunis, Jessica Alba, Emma Watson, Edward Norton and Selena Gomez.
To learn more about Zoe Natural Creations, contact Shawna Wilkinson by email and visit ZoeNaturalCreations.com. Become a fan on Facebook (ZoeNaturalCreations), Twitter (@ZoeNaturalSC), Instagram (zoenaturalcreations) and Pinterest (ZoeNaturalSC).

Neither Zoe Natural Creations, nor The Artisan Group are officially affiliated with the Golden Globes or The Hollywood Foreign Press Association.
ABOUT ZOE NATURAL CREATIONS
Family-run, South Carolina-based Zoe Natural Creations (http://www.zoenaturalcreations.com) is all about keeping it real. The company is passionate about creating body care products that look, feel and smell great. Zoe Natural Creations handcrafts all soaps, balms, butters and scrubs in small batches, which ensures freshness and efficacy.
Zoe Natural Creations is a proud member of by-invitation-only The Artisan Group®.
ABOUT THE ARTISAN GROUP
The Artisan Group® (http://www.theartisangroup.org) is a premier entertainment marketing group dedicated to representing small business artisans at the best celebrity gift lounges and press events. The organization provides a collective sampling of handcrafted products to celebrities and members of the press at top luxury gift lounges such as those leading up to The Academy Awards, The Golden Globes, The MTV Movie Awards and The Primetime Emmys.
The Artisan Group also coordinates product placement of its member's handcrafted products on such hit television shows as Empire, Scandal, The Voice, How To Get Away With Murder, The Vampire Diaries, Days of Our Lives, The Young & The Restless, Modern Family, Jane The Virgin and Law & Order: SVU, among others. Membership in The Artisan Group is juried and by invitation only.
For press inquiries regarding The Artisan Group, please visit theartisangroup.org or email press(at)theartisangroup(dot)org.