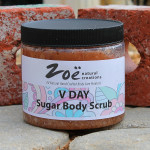 There is nothing more romantic than rose petals!
North Charleston, South Carolina (PRWEB) November 05, 2014
Zoe Natural Creations (http://www.ZoeNaturalCreations.com), in partnership with The Artisan Group®, has gifted selections from its ready-for-romance V Day line of natural bath and spa products at the Consumer Events Valentine's Day All Press Gifting. The Gifting took place October 28, 2014 in New York City. Attendees included magazine, newspaper and online editors, top bloggers and TV, radio and online producers.
The V Day line, which includes bar soap, soap bomb, body scrub and body butter, is formulated to revive the senses and ease stress, with a refreshing and invigorating blend of grapefruit, lavender, Peru balsam and patchouli essential oils. The Sugar Body Scrub is infused with dried rose petals, and the Soap Bar receives a sprinkling of dried rose petals on top. A V Day gift pack containing a 16 oz. V Day Sugar Body Scrub a 4 oz. Shea Body Butter and a 4 oz. V Day Bar Soap, is available to purchase at ZoeNaturalCreations.com for $32.00. Products from the line can also be purchased individually.
Shawna Wilkinson is the owner of and chief soap maker at the South Carolina-based handcrafted body care product company. She notes, "I created the V Day line especially for Valentine's Day, but there's no reason you can't use it to pamper yourself all year round. Patchouli is a luxuriant perennial herb that has long been considered an aphrodisiac. And there is nothing more romantic than rose petals!" She notes that with Christmas and Hanukkah around the corner and Valentine's Day just a few months away, the line is a natural for editors and bloggers who are curating Holiday Gift Guides.
The V-Day line has received rave review ever since its debut. Must Have Boxes noted, "The Zoe Natural Creations V-Day line is fantastic… There's a certain element of care that goes into creating handmade products that can't be reproduced by big brands."
Zoe Natural Creations is a member of the by-invitation-only arts promotion organization The Artisan Group and as such, has gifted its products to numerous Hollywood celebrities and VIPs.
In honor of 2014 Mother's Day, celebrity moms including Gwen Stefani, Kerry Washington and Mila Kunis, received Zoe Natural Creations' Lavender Shea Body Butter. For 2014 Earth Day, Jessica Alba, Emma Watson, Edward Norton and other eco-conscious celebrities were gifted a Love Is All You Need Natural Handcrafted Soap Bar. Zoe Natural Creations included its Tattoo Balm and Peppermint Lime Lip Balm in celebrity gift bags for GBK's Luxury Gift Lounge for the 2014 MTV Movie Awards. The gift bag went to cast members from Grimm, The Good Wife, Hart of Dixie, Nashville, Parenthood, Scandal and Justified, among others. Its Chocolate Mint Soap Bar was gifted to singer/actress Selena Gomez, and its Lemongrass Bar Soap was included in celebrity gift bags at GBK's Luxury Gift Lounge for the 2014 Golden Globes.
To learn more about Zoe Natural Creations, visit contact Shawna A. Wilkinson by email using the Contact button to the right. Become a fan on Facebook (ZoeNaturalCreations), Twitter (@ZoeNaturalSC), Instagram (zoenaturalcreations) and Pinterest (ZoeNaturalSC).
ABOUT ZOE NATURAL CREATIONS
Family-run, South Carolina-based Zoe Natural Creations (http://www.zoenaturalcreations.com) is all about keeping it real. The company is passionate about creating body care products that look, feel and smell great. Zoe Natural Creations handcrafts all soaps, balms, butters and scrubs in small batches, which ensures freshness and efficacy.