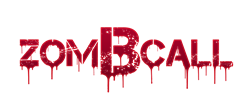 If you love zombies then please back ZomBcall on Kickstarter. It's easy just go to http://zombcall.com and follow the link to the Kickstarter campaign
DAllas, TX (PRWEB) June 28, 2014
ZomBcall is officially launching their Kickstarter promotional video to be featured on Kickstarter.com and YouTube.com. The video production shot in early June features the two ZomBcall inventors James Villepigue and Christopher Oliver in humorous banter while expressing their passion for zombies, zombie culture and their zombie sound vocalizer. Later in the video they are subjected to a zombie attack in the woods and narrowly escape in a climactic scene reminiscent of an Indiana Jones style escape.
Alyssa Skyes organized a talented group of professional zombie makeup artists including Christopher Luciano, Kevin Lewis (who also appeared as a zombie), Emily Garrison and Catherine Sullivan. Ms. Sullivan was also responsible for the step-by-step makeup for zombie transformation of the ZomBcall inventors Oliver and Villepigue at the end of the video.
The ZomBcall zombie sound vocalizer Kickstarter promo video was filmed by Noel Wiggins (directornoelwiggins.com) with the assistance of Jr. Gonzales, who also appeared in the production as a zombie. The cast of undead zombies in the ZomBcall Kickstarter promo video production features Angel Williams, Kevin Lewis, April Snapka, Charles Brummet, Charles Henderson III and Jr. Gonzalez. The group of actors braved the heat during a 10-hour shoot in the North Texas heat and humidity. Oliver and Villepigue have repeatedly expressed their gratitude toward the professional cast and their dedication to the project. They have also announced plans to feature the cast and crew of the video on their website zombcall.com.
The ZomBcall Kickstarter campaign will last for 30 days providing rewards ranging from ZomBcall vocalizer toys and t-shirts to an exclusive "zombie afterparty" where five lucky guests will be transformed into zombies like those featured in the ZomBcall promo video by a team of top notch zombie effects make up artists.
"If you love zombies then please back ZomBcall on Kickstarter. It's easy just go to http://zombcall.com and follow the link to the Kickstarter campaign. It is easy to create an account at Kickstarter and they use Amazon.com payments for a streamlined experience. We need your support! Please back ZomBcall!"says Christopher Oliver, ZomBcall zombie sound toy co-inventor.
ZomBcall is a zombie sound vocalizer toy that allows users to generate a wide range of zombie sounds and mimic zombies of popular culture such as those featured in hit TV shows like "The Walking Dead" or movies like "World War Z" and "Warm Bodies". For more information about ZomBcall.com, the ZomBcall zombie sound vocalizer toy and the Kickstarter funding drive please visit zombcall.com.