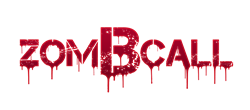 We need about five enthusiastic and experienced zombie actors to help us with our Kickstarter promo video. We have a professional team of makeup artists to help with zombie makeup if needed
Dallas, TX (PRWEB) May 31, 2014
ZomBcall.com announces a video opportunity for female and male zombie actors to be featured in their new Kickstarter promo video. On Sunday, June 8, 2014, Christopher Oliver and James Villepigue will be producing their Kickstarter promo video for their new ZomBcall zombie novelty product.
"We need about five enthusiastic and experienced zombie actors to help us with our Kickstarter promo video. We have a professional team of makeup artists to help with zombie makeup if needed. This is a nonpaying gig; however, we will be heavily promoting the video and your name will appear in the credits. Certainly it's a great opportunity for exposure. If you are a zombie actor in the Dallas area and would like to appear in our project please call Christopher Oliver at 469-644-6447 or email contact(at)zombcall(dot)com," says James Villepigue, co-founder of ZomBcall.
The ZomBcall Kickstarter project is slated to begin later in June 2014. The fundraising drive will last for 30 days. Backers will have the opportunity to become among the first to receive z ZomBcall zombie novelty device.