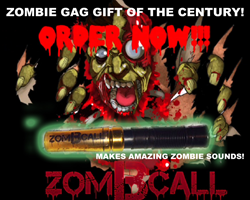 Dallas, TX (PRWEB) September 30, 2014
The creators of ZomBcall, the innovative zombie sound toy, are launching a promotion drive with the help of crowd funding promotional company, Fundzinger. The campaign will begin on September 30, 2014 along with the actual Kickstarter page launch. Fundzinger will assist in getting the story of ZomBcall out to members of the press.
"ZomBcall believes that Fundzinger will take the ZomBcall promotion to the next level. Right now it is the beginning of the zombie hot zone season. The Walking Dead premiers in less than two weeks and Halloween is right around the corner. A zombie apocalypse could happen any day now. It is imperative that people back ZomBcall now to ensure they will receive a genuine ZomBcall zombie sound maker in time! Zombie fans should run and not walk to the sidebar of the ZomBcall kickstarter page and back ZomBcall now!", says Christopher, co-creator of the ZomBcall zombie sound and scare gag gift.
The ZomBcall zombie sound device is available on Kickstarter right now through October 30, 2014. For more information about ZomBcall or to back the project visit the ZomBcall Kickstarter page.