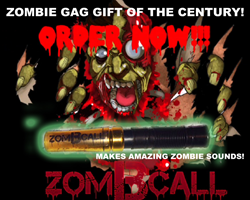 Dallas, TX (PRWEB) September 30, 2014
ZomBcall.com announces zombie sounds and scare device Kickstarter campaign running through the Halloween Season. From September 30, 2014 until October 20, 2014 at 11:59PMCST the ZomBcall zombie scare device and gag gift will be available on Kickstarter for crowdfunding.
"ZomBcall.com is proud to unveil the final version of the ZomBcall zombie sound vocalizer as the ultimate gift for the zombie in your family this holiday. Nothing says you care about a zombie fan like a ZomBcall! Please support the ZomBcall on Kickstarter!", says Christopher Oliver, co-inventor or the ZomBcall zombie sound vocalizer toy.
ZomBcall is a zombie sound and scare device marketed as the ultimate gift for rabid zombie fans. By making a wide range of authentic TV and movie style zombie sounds ranging from groans, grunts, and moans to screeches, squeals and screams ZomBcall provides zombie enthusiasts endless possibilities for zombie fun.