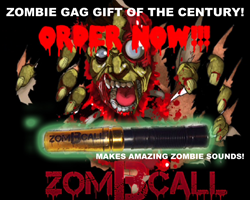 Dallas, TX (PRWEB) September 30, 2014
ZomBcall.com is going live with their Kickstarter.com crowd funding campaign to fun manufacture of what they refer to as, "the zombie gag gift of the century." The device, which looks much like a hunter's wild game caller is called "ZomBcall" and is capable of replicating a wide range of zombie sounds like those featured in hit TV shows like "The Walking Dead" and movies like "World War Z." The makers of ZomBcall request that zombie fans everywhere share the Kickstarter.com project link on social media and online and back their project on Kickstarter by selecting a reward and pledging their support.
"ZomBcall has officially gone live on Kickstarter. Perhaps it would be better to say the campaign is now officially undead! We ask zombie fans everywhere to spread the word and support us on Kickstarter," says Christopher Oliver, co-founder of ZomBcall.
ZomBcall is a zombie sound toy that makes authentic TV and movie style zombie sounds. ZomBcall is now available on Kickstarter.com for crowd funding through October 30, 2014. For more information about the ZomBcall zombie sound toy visit their kickstarter page at https://www.kickstarter.com/projects/zombcall-zombiesound/zombcall-zombie-gag-gift-for-zombie-fans-makes-zom .